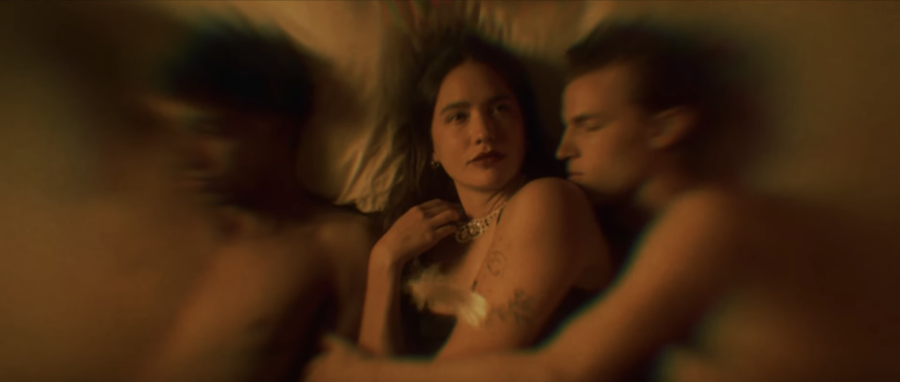 Today Andrew Rinehart shares the music video for his latest single, "Zoë" – directed by rising star Cory Nixon, it is a loose homage to the 1995 black comedy The Doom Generation. The song is taken from the forthcoming EP from Rinehart, Have Fun Idiot (sonaBLAST!) due Aug. 6, which will also feature a duet with Bonnie Prince Billy on a cover of the Dead's "Friend of the Devil" as well as a cover of The Neccessaries, a band that included Arthur Russell as a member in the early 80s.
Rinehart explains how the song "Zoë" came to be:
"After Covid hit in March, I happened to have an out of nowhere, totally nightmarish stomach bleed situation that put me in the Hospital for a few days.  It was unrelated to Covid, but still it was scary as hell.  After that I decided to bail from LA for awhile and hide out up North in San Luis Obispo, a very quiet and serene town.  I was hiking around Madonna Mountain one day and the melody for "Zoe" came to me out of the blue.  It was a ridiculously positive and happy sounding melody, which was the absolute opposite of the way the world was going at that time, so it got me thinking about the hypothetical moment in the future when all the Covid stuff would end.  While it's looking like Covid may be with us in one form or another for awhile, at least we're starting to see some version of a light at the end of the tunnel.  The lyrics portray some romantic squabbling, but at the end of the day it's really just a celebration of life kind of song, a song that sounds and feels like joy and relief and difficult times coming to an end."
Bio:
Originally from Louisville, KY, Andrew Rinehart has been active in both the Brooklyn and LA DIY scenes for the last 11 years. He co-founded the Body Actualized Center in Bushwick, and helped curate shows at Downtown LA's "secret venue" 'Basic Flowers.' Along the way he's released a double LP on Buddyhead Records, 4 EP's, and a slew of singles.
Today he's announcing a new EP titled Have Fun Idiot, along with a music video for the 1st single "Zoë." Helmed by up-and-coming LA director Cory Nixon, the video pays homage to queer Filmmaker Greg Araki's The Doom Generation, with cameos by LA musical IT couple George Clanton and Lindsey French (aka Negative Gemini).
The 6-song EP includes a Bonnie Prince Billy-assisted cover of The Grateful Dead's "Friend Of The Devil," and a reworking of a rare Arthur Russell side project song.
Andrew Rinehart
Have Fun Idiot EP
(sonaBLAST!)
Street Date: Aug. 6, 2021
Track List:
1. Zoë
2. More Real (cover of The Neccessaries feat. Arthur Russell)
3. Infinite Scroll
4. Finite Jazz
5. Friend of The Devil (feat. Bonnie Prince Billy)
6. Big Sur God Song