Watch Dive Index's new "Wish I Had A Pulse" (Tiny Mile Remix) video via Spill Magazine
WATCH: "Wish I Had A Pulse" (Tiny Mile Remix) ft. Natalie Walker
YouTube / Spill Magazine
STREAM: Refolded: Waving At Airplanes Remixes
Streaming Services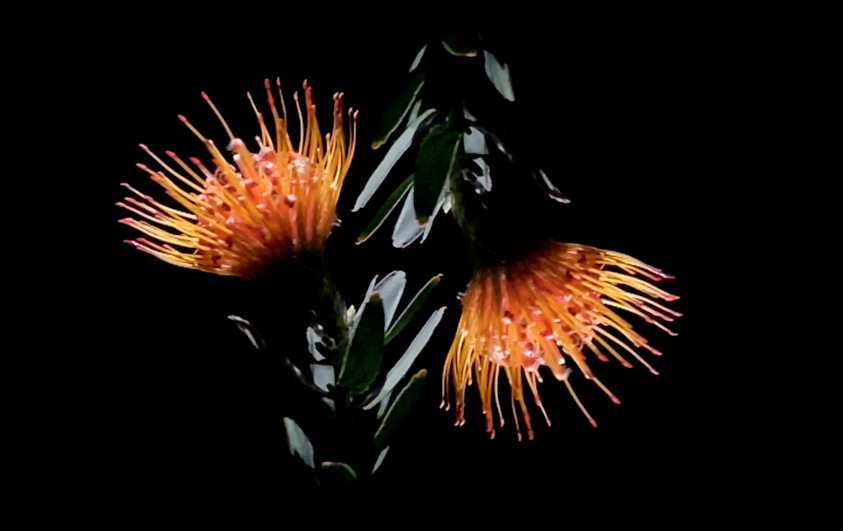 Today, Dive Index is sharing a new flower filled video for "Wish I Had A Pulse" (Tiny Mile Remix) ft. Natalie Walker off of their new Refolded: Waving At Airplanes Remixes LP. Spill Magazine has the premiere. Refolded: Waving At Airplanes Remixes is streaming on all platforms.
Dive Index shared some thoughts on the video:
"The video for the "Wish I Had a Pulse" remix features a collection of spring blooms that sprung up over the past couple months around the studio in Ojai – pin cushion protea, grevillea, iris, eucalyptus, aloe and various grasses.  Since the music has more of minimal house vibe, we wanted to anthropomorphize the plants, as if they were dancing.  Shot outside at night, the flowers and grasses were inserted into a power drill and spun around under a spotlight.  To give a little bit of a laid back feel, we shot most of it in slow motion. "
Refolded: Waving At Airplanes Remixes is the sixth full-length album from electronic composer/producer Will Thomas' collaborative Dive Index project. The original Waving At Airplanes appeared last spring, at the height of the early pandemic turmoil. Exposé Online described it as "stellar, full of imaginative touches and interesting echoes," while Electronic Sound compared it to "reading a short novel, energies and perspectives shifting throughout."
The isolation of lockdown gifted Will an opportunity to revisit a record that had been undeservedly overshadowed by global events. Relocating his studio to the bucolic Ojai Valley, 90 minutes north of his Los Angeles base (in part to escape the noise of a certain Irish singer's new crib being built on the hillside above), he set out to reinterpret and remix songs from Waving At Airplanes.
Will also invited Mike Lindsay of Tunng to remix the song "She's Exploding," and channeled his minimalist-electronic Plumbline moniker in reimagining the album's title track with help from revered cellist Alison Chesley (aka Helen Money). These new versions are more deliberate, beat-focused, and at times darker/heavier than the originals songs. Moods oscillate between understated house ("Wish I Had a Pulse") and hip hop-inflected atmospherics ("Near Enough'), to the fluttering, shadowy brooding of "We Can't Change the Channel," and the title track's nuanced, stripped-back strings.
Dive Index:
Dive Index is a Los Angeles-based collaborative electronic project lead by composer/producer Will Thomas, featuring a variety of guest vocalists and musicians. Associated with the independent Neutral Music label, Dive Index made its full-length debut in 2007 with Mid/Air. The project's six-album catalog includes vocalists Joseph Arthur, Mark Gardener (Ride) Natalie Walker, Merz, Ian Masters (Pale Saints), and Simone White, as well as musicians Kevin O'Donnell, C.J. Camerieri, Julia Kent, Maxim Moston, and Alison Chesley. A remix collection, Collisions: The Mid/Air Remixes, features contributions from the Album Leaf, Tunng, Jason Bentley, Roger Eno, and Beat Pharmacy, among others.
Waving At Airplanes:
The original songs on Waving At Airplanes alternated between vocalists Natalie Walker and Merz, almost creating a dialogue between the two. Will set specific parameters on his production writing process, sourcing almost everything from modular synthesizer. The only exceptions were piano, acoustic guitar, and occasional extraneous sounds – nail gun, jackhammer – that leaked organically into the studio.
The songs were mostly recorded in Will's studio near L.A.'s Laurel Canyon, with Merz contributing from Joshua Tree. Mastered by Mike Bozzi at Hollywood's legendary Bernie Grundman Mastering, Waving At Airplanes is both an audiophile delight and, warmed with Walker's gauzy timbre and Merz's lived-in expressions, a reassuringly visceral experience.