Joyer's Perfect Gray is out everywhere today; release show tonight in Brooklyn
STREAM: Perfect Gray –
Streaming Services
Joyer's Perfect Gray is out everywhere today via Julia's War. Tonight the duo are playing a release show in Brooklyn at Hart Bar. In case you missed them, check out the videos from the LP: "Cranky Boy," "I Was Wrong," and "Worst Thing"
Bio:
Having both come from a film background, brothers Nick and Shane Sullivan use their inspiration from directors like Tsai Ming-Liang and Andrei Tarkovsky to craft bleak and unadorned slowcore which emphasizes bizarre and ominous imagery, under the moniker Joyer. Their lyrics mix themes of environmental catastrophe, industrial decay, and internal struggle with an effort to stay positive and find contentment in personal meaning.
The Deli Magazine described Joyer's music as "an engaging mix of slacker rock wordplay and discordant instrumentation, both boisterous in its separate parts yet quiet in execution." Writing about their 2020 album Sun Into Flies, Post-Trash had this to say: "Joyer are quietly making some of the finest recent slowcore music […] To listen to Joyer is to miss live music: not of the large concert arena type, nor a neighborhood bar show, but simply just a wonderful house show."
Their latest release, Perfect Gray, marks their debut on the Philadelphia-based label Julia's War.
LP Release Show
9/24 – Brooklyn, NY – Hart Bar
some recent press quotes on the band:
"Joyer make atmospheric, bummed-out indie rock that is not too far removed from Sparklehorse and Songs:Ohia." -BrooklynVegan
"If you feel like escaping into someone else's world, I think you'll find solace in the welcoming sounds of Joyer" -Austin Town Hall
"The track operates with an inherent moodiness expressed in a languid delivery of subdued emotion with soft and subtle electric chords" -Week In Pop (on "Cranky Boy")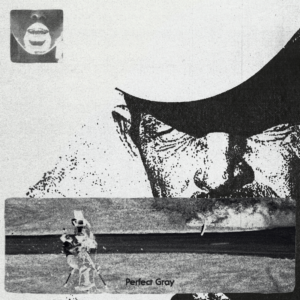 Joyer
Perfect Gray
(Julia's War)
Street Date: September 24, 2021
Track List:
1. Worst Thing
2. Crows
3. Perfect Gray
4. In The Dirt
5. Creek
6. Milk
7. Cranky Boy
8. Nothing
9. Lucky
10. I Was Wrong
11. Rain Came Down Sideways
12. Two Times
13. Pulled Teeth
14. Finally One
15. Breeze