The Weight Of A Wave is out Aug. 4 and features members of Hot Chip, The Antlers, Beverly and Madeline Kenney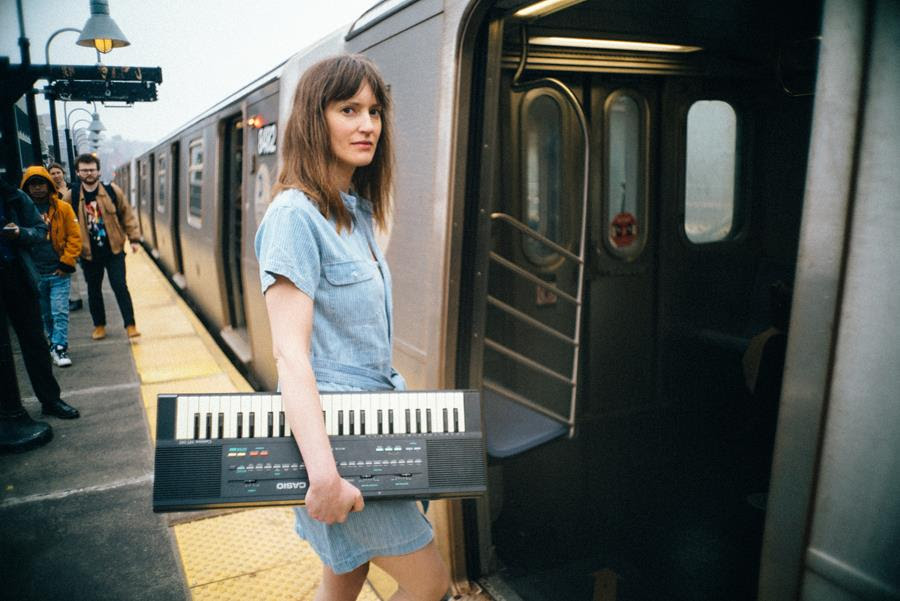 Renowned musician and composer Annie Hart is thrilled to announce her fourth full-length studio album, The Weight of A Wave, set to release on August 4th on Uninhabitable Mansions. This album is a fun and upbeat collection of songs ranging from krautrock-inspired electronic pop to post-punk.  Brooklyn Vegan says of the album: "While she's mostly been associated with the gentler side of synthesizers, the new album shows she can rock out too."
Rough Trade NYC & Annie Hart are proud to announce an exclusive edition of Annie's newest album, The Weight of a Wave as well as a special record release in-store event on Aug. 4 at 6pm at Rough Trade NYC with a stripped-down live performance and signing. Available in a strictly limited run of 45 copies, each copy of the record comes with a completely unique block print of the title of the album on high-quality watercolor paper (see example below). Featuring a bold watercolor background and bright hand-printed shapes, the art represents the fun and spontaneous nature of the music. Annie made each of the posters using brushwork and lino cuts on her back porch.  "For me, art represents a very pure form of play, where shapes and colors can just be enjoyed for what they are and how they feel in your brain," she says.  "This album of energetic songs very similarly was written in a very playful way, and I wanted to explore their connection as purely enjoyable pieces of art I made completely for fun's sake."
Pre-sales of the highly limited edition are only available through Rough Trade NYC on their
online store
.
On August 4th they will also be available in person at their Rockefeller Center location.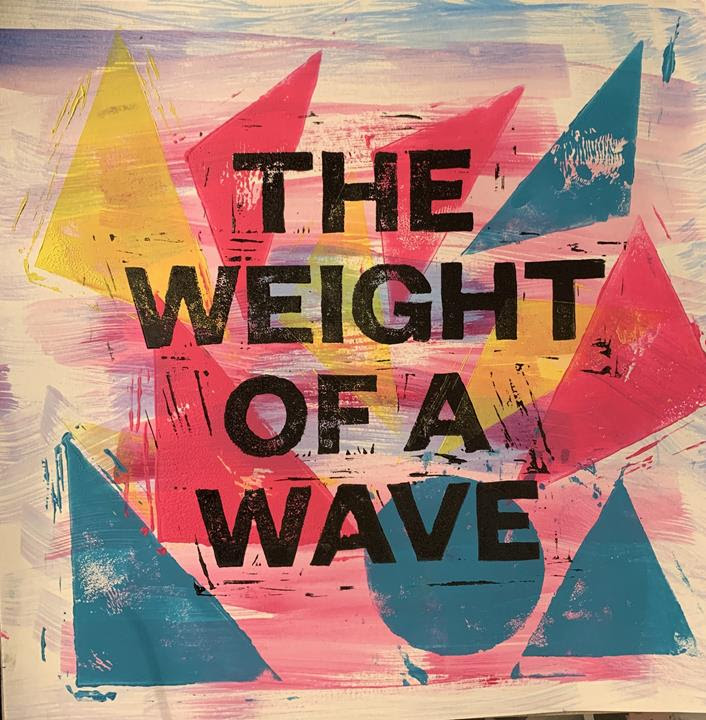 Hart's illustrious musical career took flight in 2003 when she entered the electro-pop scene as a founding member of Au Revoir Simone. Their synthesizer-driven melodies gained prominence in movies, commercials, and hit TV shows, including Grey's Anatomy and Ugly Betty. In a significant highlight, Hart not only contributed music to David Lynch's 2017 revival of Twin Peaks, but she also graced the screen, performing onstage at the famous Roadhouse in episodes four and nine.
In 2017, Hart embarked on a solo endeavor with the release of her debut album, Impossible Accomplice, whose tracks appeared in popular TV shows such as Marvel's The Runaways, Trinkets, The Fosters, and the Naomi Watts-led Gypsy. Venturing further into her artistic evolution, Hart stepped into the film industry in 2020, composing scores for several feature films, including IFC's Olympic Dreams and Universal's Banana Split. As a solo artist, she has shared the stage with renowned artists like Fred Armisen, Alexis Taylor of Hot Chip, Delicate Steve, Saint Etienne, Voxtrot, and Marissa Nadler.
The Weight of A Wave showcases Hart's undeniable songwriting prowess. Characterized by an eclectic mix of poppy basement rock to energetic krautrock-inspired jams, each song was crafted in what Hart and her friends affectionately call "Song Challenges," producing a minimum of three songs per session. This technique grants the album an organic and vibrant quality that successfully captures a sense of spontaneity often missed in studio recordings. The songs feature backing vocals by Alexis Taylor of Hot Chip, The Antlers, Drew Citron (Beverly), and Madeline Kenney. The album was mixed in parts by Jorge Elbrecht (Japanese Breakfast, Hatchie), Joshua Druckman at Outlier Inn (Nude Party, Snail Mail), and Justin Pizzoferrato (Wild Pink, Dinosaur Jr.).
As she looks ahead, Hart continues to push her creative boundaries. She just completed scoring the short Aphasia as part of the prestigious ASCAP/Columbia University Film Scoring Workshop and is scoring two more short films to be released in 2024. Annie continues to break boundaries by composing music for patient listeners in her own distinctive self-taught style. 2023 will see the release of several projects, further building on the momentum of her career.
Photo by Sebastian Kim
TOUR DATES:
Tue-Aug 1    Long Beach, CA    Beverly O'Neill Theater * (tickets)
Wed-Aug 2   San Diego, CA       Epstein Family Ampitheater * (tickets)
Fri-Aug 4    New York, NY     Rough Trade In-Store Performance / Signing 6pm (RSVP)
Mon-Aug 7    North Adams, MA    Tourists   (Free!)
Tue-Aug 8    Kingston, NY    Tubby's  (tickets)
Wed-Aug 9   Amherst, MA      The Drake * (tickets)
Sat-Aug 12    Anchorage, AK   Wendy Williamson Auditorium * (tickets)
Wed-Aug 16    Washington, DC    Comet Ping Pong   (tickets)
Thu-Aug 17    Philadelphia, PA    The Dolphin   (tickets)
Fri-Aug 18    Brooklyn, NY    TV Eye  (tickets)
Tue-Aug 22    Seattle, WA    Here-After #   (tickets)
Wed-Aug 23    Portland, OR    Missippi Studios #   (tickets)
Fri-Aug 25    San Francisco, CA    Cafe du Nord #   (tickets)
Sat-Aug 26    Los Angeles, CA    Zebulon #   (tickets)
* = w/ Fred Armisen
# = w/ Jimmy Whispers
Annie gives the back story of the "What Makes Me Me" single and video:
"I wrote this song when I was feeling incredibly down about myself.  I felt like the only thing I was good at was feeling gratitude – but, paradoxically, I was so melancholy about it.  I pulled a trick from Belle and Sebastian's hat and made a song about it as cute, sing-alongable, and folky as I could.  If I was going to feel bad about myself, why not have fun with it?  While I was working on the song, my best friends Emily James and Jenna Gribbon came to visit me at a residency upstate in New York.  I played them the song and they decided we should make a music video right then and there.  I love that the video is so private and the Jenna introduces it just perfectly.  At one point I start tearing up because I am filled with so much love for them.  There's something so visceral about witnessing people love each other and I wanted to share that in this video: even when you are feeling pretty crummy, there's someone out there who loves you for exactly who you are."
Annie Hart
The Weight Of A Wave
(Uninhabitable Mansions)
Aug. 4, 2023
Pre-order it HERE
Track List:
1: Boy You Got Me Good
2: Crowded Cloud
3: I Never Do
4: A Lot of Thought
5: Waking Up
6: What Makes Me Me
7: Stop Staring at You
8: Falling
9: Nothing Makes Me Happy Anymore
10: While Without
ANNIE HART LINKS:
Official Site
Facebook
Twitter
Instagram
SoundCloud
BandCamp