Contact
Bio
For a decade, Baltimore based composer Dan Deacon has been a fixture in the American underground music scene. Through relentless touring, Deacon built himself a devoted grassroots following. His breakthrough 2007 album 'Spiderman of the Rings' brought critical acclaim and exposed his work to an international audience. Since then, Deacon has begun expanding his output beyond indie/underground circles and has begun to emerge in the contemporary classical scene.
In addition to Deacon's solo work and composing for his own ensemble, he has worked on several acclaimed collaborations with So Percussion, including a 2012 performance at Zankel Hall, which Alex Ross of the New Yorker declared "one of the more entertaining and fulfilling evenings I've had in recent years." Deacon has also worked with the Calder Quartet, Now Ensemble, and the Kitchener-Waterloo Symphony as well as composing for the score for Francis Ford Coppola's film 'Twixt.'
Deacon has performed his work at several leading music and art venues, including London's Barbican Centre, Carnegie Hall, the Whitney Museum of American Art in New York, the Getty Center in Los Angeles, and the Hirshhorn Museum and Sculpture Garden at the Smithsonian. His latest album 'America' was released on Domino Records in August of 2012.
-Drew Swinburne
Current Release

Dan Deacon
America
(Domino)
Street Date: August 28, 2012
TRACK LIST
1. Guilford Avenue Bridge
2. True Thrush
3. Lots
4. Prettyboy
5. Crash Jam
6. USA I: Is a Monster
7. USA II: The Great American Desert
8. USA III: Rail
9. USA IV: Manifest
Pics (click for high res)
[columns] [one-fourth]

Credit: Shawn Brackbill
[/one-fourth] [one-fourth last="yes"]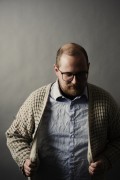 Credit: Shawn Brackbill
[/one-fourth] [one-fourth]