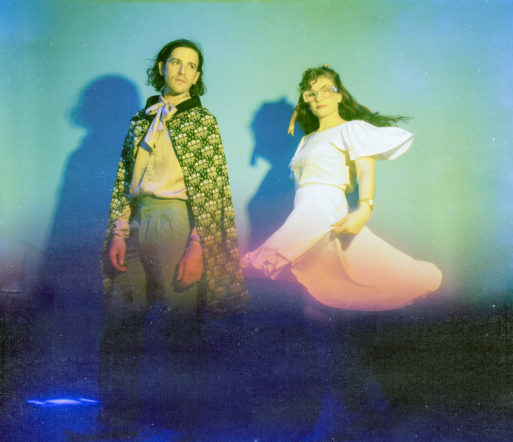 Photo Credit : Dana Trippe
Bio:
Holy Golden is the multifaceted musical world of Leslie Schott and Andrew Valenti. The two met serendipitously during a lunar eclipse on the island of Martha's Vineyard when Leslie, an actress visiting from Los Angeles, decided to walk five miles across the island and happened upon the record store where Andrew was working. Andrew wrote down his band's email address on a business card and gave it to Leslie, suggesting she come to a concert that night. She bought a few CDs and left, assuming she'd probably never see him again, but as the ferry was about to leave the harbor, she ran off the boat and found the concert. Traveling back and forth between Martha's Vineyard and Los Angeles, the duo began crafting mythological mini-worlds into music, music videos, short films, and photo stories.
Andrew decided to leave behind a career in tractor driving and farming on the island and moved with Leslie to Los Angeles where they officially started the band. Their first album 'Wax Castle', written and recorded in various locations across the US, was released to critical acclaim and put out by Wallflower Records after the label's founder saw them perform in Houston, TX on their first US tour in 2017. Their following EP, 'The Licking River' was mixed and produced at Machines With Magnets in Providence, RI (Battles, Deertick) and named by a number of music blogs as one of the top indie EPs of 2017. Their latest release, 'Otherworld', a concept album inspired by a recurring childhood daydream of Leslie's, was recorded from a historic ballroom in Newport, Rhode Island, produced by Steve Rizzo (Belly, Kristen Hirsch) and released February 2018. Within their first year of performing live, they have traveled throughout the US on two national tours along with several live performances throughout the East Coast.
Holy Golden's sound blends euphoric dream-pop and twangy lo-fi garage rock to create a style that evokes Dolly Parton backed by The xx. Andrew's self-taught guitar technique, inspired by John Fahey and Stephen Malkmus, pairs with Leslie's pop-influenced songwriting to produce songs that feel both candid and mysterious. Their creative process is a labyrinthian breadcrumb trail fueled by their deepest sorrows and brightest fantasies, which ultimately leads them towards an imaginative kingdom of sound. Often recording from a portable 8-track while traveling, their music is affected by the rapidly changing landscape, both in the external and internal environment. Synonymous with the music is their fantastical visual world which draws inspiration from the work of Maya Deren, David Lynch, Edward Gorey, fairytales, and the lonely terrain of gilded Americana.
Though their nomadic tendencies usually keep them on the road, they will be based in Brooklyn this summer playing shows in the city and releasing new music and videos from their upcoming EP, recorded this past winter at Machines With Magnets and mastered by Greg Calbi of Sterling Sound (Kacey Musgraves, The War on Drugs, Tame Impala.) They will be touring in Fall 2018 alongside the release of their new EP and will hopefully find the time to start filming a feature-length movie at some point in the near future.
Current Release
Holy Golden
Sleepwalkers In The Milky Way
Wallflower Records
Street Date: October 26, 2018
Track Listing:
1. Lost Island
2. Strength
3. Seven Of Diamonds
4. Sun Swallows The Moon
5. Lockjaw
6. Wheel Of Fortune
7. Sleepwalkers In The Milky Way