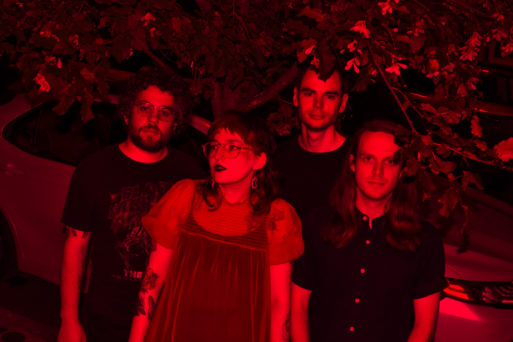 photo credit: JJ Park
Contact
Bio
Puppy Angst is a moody quartet from Philadelphia started by Alyssa Milman (guitar and vocals, they/them). Alyssa's songwriting combines raw, diary-like lyricism colored by the biting introspection of adulthood with shoegaze and dream pop influences, resulting in tracks that tell a noisy and unapologetic coming-of-age story. Dan Leinweber (guitar, he/him), Eric Naroden (drums, he/him), and John Heywood (bass, he/him) round out the rest of the band. 
In 2018, Puppy Angst self-recorded and released their first EP, Tiny Thoughts, with distribution by goodhowareyou records on all streaming platforms as well as a limited run of tapes by Small Grey Records. They have since released singles and covers on a number of compilations, including: An Abundance of Nothing (2020), Booked By Grandma: Volume One (2021), and Eat the Rich: a Gossip Girl Soundtrack Cover Compilation by Precious Bitch (2021), which was featured on Stereogum and Brooklyn Vegan. Their work has been played on Philly's own WXPN The Key, DKFM Shoegaze Radio, The Core at Rutgers University, WSBF at Clemson University, and more. They've been covered by The Deli Magazine, Magnet Magazine, The Burning Spear, and Scholastic Perspectives, among other publications. Puppy Angst is set to release their first full-length album in the fall of 2022; they released the lead single "Yellow Paint" June 23rd, 2022 and are set to release two more singles leading up to the album. 
Alyssa previously toured with fellow Philly pop outfit Kississippi, and their past projects include Past Life and Blushed, in which they were a founding member. Dan played lead guitar in Blushed alongside Alyssa, and currently also creates music under his ambient project Greenspace. Eric is also the frontman, singer, and guitarist of In Lieu of Roses, and John plays bass in Alex G. 
Bio written by Lilly Milman.
Current Release
Puppy Angst
Scorpio Season
(Self-Released)
Street Date: October 24, 2022
Track List:
1. Ghost
2. Yellow Paint
3. In Sensitivity
4. Aftermath
5. Your Bones
6. Bedhead
7. Bad Memory
8. Timetaker
9. Perpetual
10. Eternal (Stream of Consciousness)
11. The Pattern