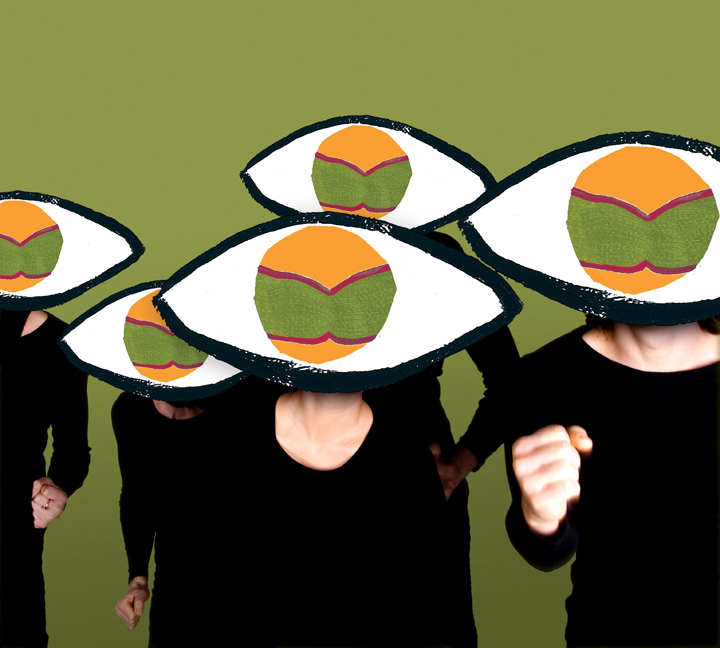 Fol Chen
MP3: "The Holograms"
VIDEO: "In Ruins" (Director: Chris Wilcha)
For its second album, Highland Park sextet Fol Chen presents Part II: The New December, songs of malaise and miscommunication set to dark pop and glitch-riddled chamber funk. Since the band's inception, Fol Chen has remained a mysterious entity – its membership disguised by masks and aliases, its lyrics appearing as transmissions from a fictional world. But just as the on-album narrative has congealed in bits and pieces, the group's real-life story has grown in tangible ways.
Fol Chen's wildly eclectic 2009 debut, Part I: John Shade, Your Fortune's Made, spawned some healthy praise (from NPR, no less), a remix album (featuring No Kids and Junior Vasquez, among others), a BBC session, and a video collaboration with the Laker Girls. It also paved the way for a pair of uniquely inspired covers: Prince's "The Beautiful Ones" (recorded for Spin) and Pink Floyd's "In The Flesh" (for Mojo). Fol Chen's bent, blackened takes on the pop eccentrics of yore provided fresh context for its own kaleidoscopic songs, and The New December shores up the group's slippery identity further still. This is Fol Chen's most focused work – as consistent as it is consuming, as enjoyable as it is unusual.
The plot, steeped in a Bowie-esque sense of puckish melodrama, picks up with the malevolent John Shade vanquished. Unfortunately, the struggle alluded to in Part I has left Fol Chen's world frayed – covered in ash, plagued by acid rain – and its population dazed. The members of Fol Chen, once a ragtag team of insurgents, are now bureaucrats forced to sit back and watch as the cipher they relied upon to defeat Shade mutates into a virus that eats words indiscriminately. Things unravel as The New December progresses, with Fol Chen enlisting a handful of familiar voices – Angus and Aaron of Liars, L.A. chanteuse Kárin Tatoyan, singer-songwriter Simone White – to help tell the tale.
FOL CHEN
07/09 Seattle, WA Sunset Tavern
07/10 Portand, OR Doug Fir Lounge
07/11 Vancouver, BC Media Club
08/03 New York, NY Mercury Lounge *
08/04 Brooklyn, NY Union Pool *
08/05 Philadelphia, PA Johnny Brenda's *
* = w/ Baths
Fol Chen
Part II: The New December
(Asthmatic Kitty)
Street Date: July 6, 2010
1. The Holograms
2. In Ruins
3. Your Curtain Call
4. This Is Where the Road Belongs
5. Men, Beasts or Houses
6. C/U
7. Adeline (You Always Look So Bored)
8. The Holes
9. They Came To Me
10. The New December
FOL CHEN LINKS
Band page – http://www.folchen.com
MySpace – http://www.myspace.com/folchen
Press Materials – http://asthmatickitty.com/fol-chen