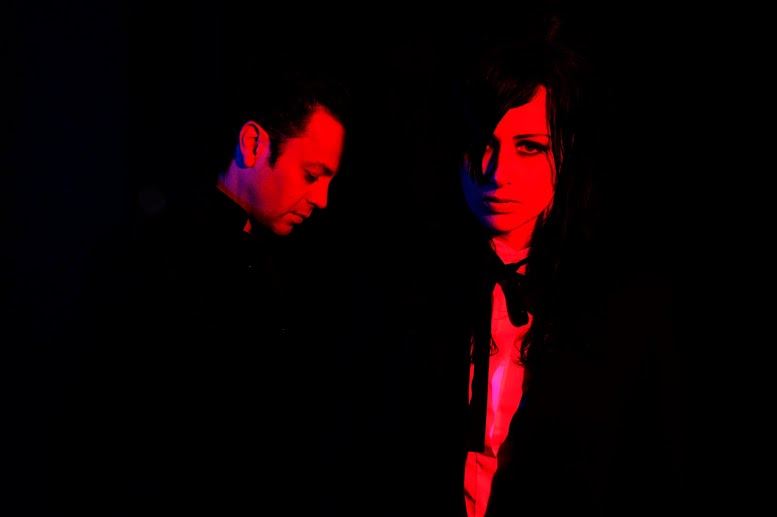 The Black Ryder began writing the songs that would appear on
The Door Behind The Door
not long after finishing their acclaimed debut
Buy The Ticket, Take The Ride
in 2009. Engineered by Von Ryper and produced by he and Nash,
The Door Behind The Door
began to take shape soon after the band left Australia to tour America in 2010.
Says vocalist / songwriter Aimee Nash "Since releasing our first record we left Australia, toured America, relocated to Los Angeles, all the while trying to find our feet & get somewhat settled enough to write & produce this record. It also took some time to find the right scenario for releasing our music as well."
Nash and Von Ryper's iconoclastic collective proves as hard to pigeonhole as it is easy to love. Rolling Stone included Buy The Ticket, Take The Ride in its "50 Best Albums of the year", praising its "sprawling, slow-burning psyche rock that paints creeping moods with layer upon layer of droney, blissed-out guitars and ethereal vocals…This is the perfect accompaniment to slowly losing your mind (in the best possible way). Don't come looking for big chorus or bubblegum blurts – just settle in for the long, blissed-out ride."
True to the group's maverick m.o., The Door Behind The Door transforms The Black Ryder's kaleidoscopic sound and vision into something even more vivid, uncompromising, and sublime, bringing in new textures and emotions that evolve as its nine-song cycle unfolds. "We wanted to create music that was layered, emotive & majestic," says Nash. "You open one door, and you find there's another, you keep moving through each door to the next not quite sure where you're going or what to expect, but there's something enticing & reassuring you that you're moving in the right direction." "The final track listing order was very deliberate, each track would morph into something completely different," adds Von Ryper. "The whole idea is that it is a journey where, as a track finishes, one door might lead to ascension, whereas another may be a descent."
Buy The Ticket… became an underground phenomenon; tracks from the album appeared in TV shows like House, Damages; Fashion brand Diesel closed out their NYC fashion week show in 2010 with "Let It Go"; iconic Australian Jewelry designers MANIAMANIA featured the bands music on numerous campaigns including The Third Mind (modeled by Australian model Abbey Lee Kershaw & premiered in the NY Times); Nash also sang on Black Rebel Motorcycle Club track "Done All Wrong" which appeared on the Twilight: New Moon soundtrack. Despite this success, however, Nash and Von Ryper split as a couple and divorced. The pair remains close confidantes and musical collaborators, however, with Von Ryper moving with Nash across the world to Los Angeles.
Due to the deeply personal nature of The Door Behind The Door's creation, Nash and Von Ryper are taking the reins for its release, putting it out worldwide on the band's own imprint The Anti-Machine Machine in conjunction with The Orchard. After working with EMI Music Australia and Mexican Summer to release Buy The Ticket…, the duo decided to self-produce and release The Door Behind The Door in an effort to preserve the album's uncompromised genesis. "We have a very specific vision for what it is we want to do here," Nash says. "We had to keep moving & creating & evolving until we found the right fit as we saw & heard it. From the music production to the artwork & imagery, to wanting to release this on our own label, to the live performance."
"We've been hands on in all facets of making & releasing our music. This approach may have taken more time to get to this point where we are finally releasing our music, but as the pieces are falling into place it's quite a wonderful feeling knowing that our imaginations have brought us here to now with an album that we're both proud of."
-Matt Diehl
Band photo by Kristin Cofer
What the press has said about The Black Ryder:
STEREOGUM: "Etheral drone, ceremonial percussion, and dead-eyed harmonies carry on together until they build up to someting sublime. There's never really a climax because the whole thing feels like one overwhelming wave of gorgeous noise."
PITCHFORK: "To Never Know You" and "Let It Go" will trigger an instant gratification for the heavy-lidded, as Aimee Nash's vocals coo almost subliminally… And then there are those guitars, where there's not much in the way of attack and release, but plenty of sustain and decay, every wide-open chord wobbling like it's embedded in some sort of gelatin"
ROLLING STONE: (included in 50 BEST ALBUMS OF 2010) "Buy the Ticket, Take the Ride is sprawling, slow-burning psyche rock that paints creeping moods with layer upon layer of drony, blissed-out guitars and etheral vocals…. This is the perfect accompaniment to slowly losing your mind (in the best possible way). Don't come looking for big chorus or bubblegum blurts – just settle in for the long, blissed-out ride."
NYLON MAGAZINE: "Their music is spiked with feedback the way a murder cocktail is spiked with arsenic, but it's the dreamy vocals of singer Aimee Nash that somehow turns the band into something more than a trippy daydream of chords. For times in need of mellowness – like Mondays, definitely – we highly recommend turning up your computer speakers and streaming their stuff online. Just don't forget to breathe." (BAND CRUSH)

The Black Ryder
The Door Behind The Door
(The Anti-Machine Machine)
Street Date:
Feb. 24, 2015
Track List:
1. babylon
2. seventh moon
3. the going up was worth the coming down
4. let me be your light
5. santaria
6. throwing stones
7. all that we are
8. until the calm of dawn
9. (le dernier sommeil) the final sleep
cover art image is a collaboration with LA based artist
Suzy Poling
THE BLACK RYDER LINKS: