Holy Wave shares music video for "Magic Landing", announces U.S. tour dates via Brooklyn Vegan
-Check out Holy Wave on their US Tour, dates below
Watch: "Magic Landing"
Youtube / Brooklyn Vegan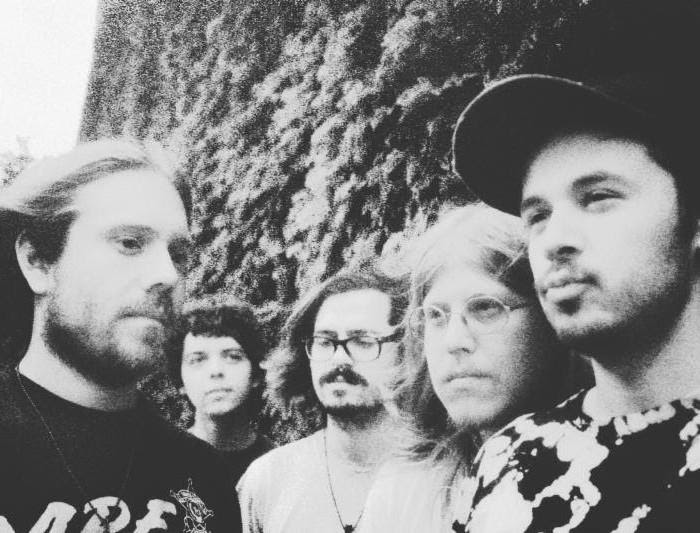 (Photo Credit:  Photo Alison Scarpulla – click image for high-res version)
Originally formed in El Paso, Texas, Holy Wave carefully combines fluid forms of sacred surf sounds, droning riffs, and group vocals that haunt and harmonize in equal measure.  Today onBrooklyn Vegan, Holy Wave shares the video for "Magic Landing" off their latest LP, Freaks of Nurture.  Freaks of Nurture is out now on Reverberation Appreciation Society. To order the LP click here.  The band also announced their West Coast tour dates, see below.
Recently, the band made the move to Austin and released Knife Hits, The Evil Has Landed, and Evil Hits, a compilation featuring select tracks from the band's prior output, and the band's first release onThe Reverberation Appreciation Society. The band's second LP, Relax, was released in 2014 and saw the band expanding both their sound and their membership, recording for the first time as a five-piece. The band followed up Relax with Evil Hits Part II, a collection of B-sides and demos, released as a limited edition 10″ EP.
Holy Wave returned with their 3rd studio LP, Freaks Of Nurture, released via The Reverberation Appreciation Society on March 11, 2016.
Holy Wave has toured extensively around the states and internationally, including support for GOAT and Psychic Ills,  and festival appearances at SXSW, CMJ, Incubate, and every year at LEVITATION (formerly Austin Psych Fest) since 2011, including the upcoming 2016 edition.
"They've got the far-off, dreamy vocal wash of the shoegazers, but their guitars and hooks are anything but subtle, invoking the tone of early Kinks or Nuggets acts on 'Psychological Thriller'." – Pitchfork
"Low key and heavily reverbed throughout, their third album Freaks of Nurture is an intimate piece of pastoral psychedelia which replaces oddball freak-outs with gorgeous melody." – Line of Best Fit
"On their third studio album, Freaks Of Nurture, the band combines elements of psych, Nuggets-era garage pop, and surf rock before slathering the whole package in the requisite coat of reverb." – Consequence of Sound
"There's a touch of melancholy lurking under all the sepia-drenched warmth, but make no mistake–this is asleep-in-the-sunlight bliss." – Under the Radar
"It's a garage-rock lover's garage-rock album, unabashedly embracing of Zombies-like slacker psalms and clunky guitar manipulations." – Paste
Tour Dates
11/03 – Dallas, TX – Texas Theatre
11/05 – Columbia, MO – Cafe Berlin
11/06 – Milwaukee, WI – Cactus Club
11/07 – Cleveland, OH – Mahalls 20 Lanes
11/08 – Chicago, IL – Schubas
11/10 – Indianapolis, IN – State St Pub
11/11 – Toronto, ON – Silver Dollar
11/12 – Detroit, MI – Echo Fest @ Magic Stick
11/15 – Providence, RI – Aurora
11/16 – New York, NY – Shea Stadium
11/17 – Boston, MA – Middle East
11/18 – Philadelphia, PA – Goldilocks Gallery
11/19 – Raleigh, NC – Ruby Deluxe
11/20 – Asheville, NC – Mothlight
11/21 – Atlanta, GA – 529
11/22 – New Orleans, LA – Siberia
11/23 – Houston, TX – Satellite Bar
11/26 – Austin, TX – Barracuda
(click artwork for high res)