Contact
Us press: Daniel Gill at Force Field PR
[email: daniel@forcefieldpr.com]
Bio
What do a fake plane ticket, a handful of psychedelic mushrooms, and a fated Uber ride have in common? They all played a vital role in the mental awakening NYC singer-songwriter Luke Rathborne experienced while making his long-awaited third album, Again. "I was going to get a rental car, and my credit card was charged out—but you can't rent a car without one," he explains about a particular bout of touring last year, in which he found himself struggling to get from gig to gig. "You can rent one with a plane ticket if you have a debit card, so I made a fake plane ticket to get a car. The guy at the rental car place found out it was fake and made me return the car, so I had to fly to D.C. for a show. The rest of the tour, I found out a way to use a Greyhound or Uber to get to shows.
As he DIY'd it from gig to gig, Rathborne's travels brought him to Savannah, Georgia, where the host at the place he was crashing at that night gifted him the aforementioned trippy fungi. "I was wandering around spooky Savannah texting my brother if he could get me an Uber," he recalls, "and when I got to the airport I puked. It finally hit home that what I wanted out of music was to connect with people, not fulfill some sort of tragic arc. That experience sealed the deal for getting burnt out on touring. I asked myself, 'What the fuck am I doing with my life?'"
It's a valid question to ask oneself, even for someone as accomplished as Rathborne. Over the last decade, the Maine-born musician has opened for artists like ‪the Strokes and Travis, streamed 12 million times on Spotify, been featured on BBC Radio 6 Music, and grown his audience through 2007's impressive debut After Dark and the 2013 follow-up Soft. That latter album performed well through streaming and licensing, but in the face of success, Rathborne felt empty. "You're so blown away by living the reality of what the industry entails for your life that you become frozen," he states. "It takes resolve not to submit to that. In a perfect world, your art addresses it viscerally, but at this point for me, just the act of following through is addressing it."
While toiling away in the studio Rathborne had a come-to-Jesus moment about his life's purpose as a musician; in so many words, his mind's skies parted to reveal clarity of intent. "I could work at a cell phone store, but why would I have this secret thing I can do and not do it?" he asks. "Just because I'm at this point in life where it's impressed upon you to grow up in a metaphorical sense? No matter how much I try to fight my value, at a certain point I have to embrace what I've built myself to do. You can come up with reasons for not doing anything, but reasons are excuses. You're not contributing anything by not putting anything forward."
Indeed, Again sounds like a full-bodied work even as it stretches its sonic legs through styles such as cool-handed guitar-pop ("Losing It") and thick riffage ("Lethal")—and then there's the indelible closing number, "Ordinary Woes," a fiery blast that takes Again out with devil-may-care style. "I'm happier with this record than the last one. I wanted to let the past few years talk through me the best I could. The end result was more cohesive. It finally felt like me."
"To me, it transcends any of my own categorization," Rathborne states regarding the song. "It has the trappings of punk and pop, but it breaks out of those skeletons too. You hear it out of the peripheral and think, 'Wow, that's better than I thought it was going to be.'"
If Rathborne sounds self-effacing in his self-appraisal, that's kind of the point: a prolific artist with more than a few unreleased albums in the vault, he's excited for what's next even while admitting that, "When you turn 30, there's a 'Game over' feeling." Generational malaise can be a real motherfucker—but "Ordinary Woes" stands as proof that sometimes it's worth believing in yourself and fighting against your worst impulses, if only to pursue the joys that are borne from the pains of creation.
Recent Press Quotes
"with the fucked-up-cuteness of a latter-day ‪Alex Chilton or Dwight Tilley; Rathborne seems headed for cult hero-dom rather than ‪the hit parade" – The Guardian 
"Luke Rathborne's latest is a home run." –BILLBOARD
"laid-back, confident new wave-meets-classic rock cut containing just the right amount of Nick Lowe and early R.E.M." – VICE
 "goes back and forth through the American Underground…certainly one to watch" – Zane Lowe – BEATS 1
 "Rathborne's sweetly deranged way with a melody brings to mind Brit 70s art-punk hot-boxing a runaway mustang with ‪Ty Segall." – Q Magazine
Current Release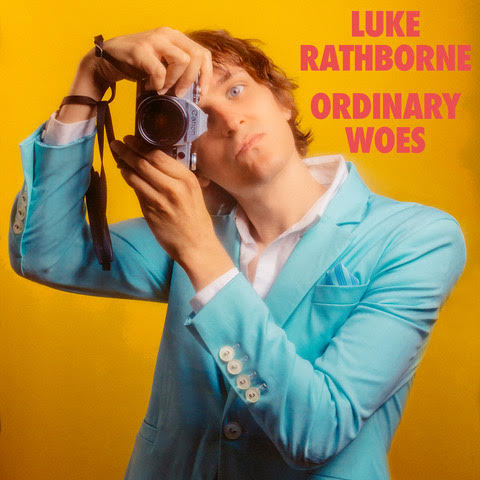 Luke Rathborne
"Ordinary Woes" (single)
(True Believer)
Pics (click for high res)
Social Media