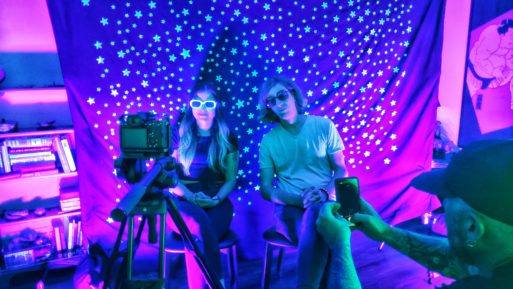 photo credit: Katie Farmer
Contact
Bio
When Spacette launched in March 2020, LA-based Jordan Heimburger didn't know he was creating a musical idea built to thrive during the weird years of the pandemic—and then come out from hiding when the time was right.
The time is right now. New single "Neptune" (out July 30 from Breakfast) finds Spacette in a new headspace that might feel familiar to listeners. We're stepping outside our rooms and finding the sunshine exhilarating but a little too bright. We're out among people and feeling fresh energy, but that energy is tinged with anxiety. 
It's all a bit surreal. And so is "Neptune," lead single from the forthcoming EP You Don't Have to Rise to Shine (out August 20).
Spacette's new work has a distinctly dreamy vibe, a natural evolution from 2020's self-titled debut, given the shifts in the world between releases. That first EP was a mix of dystopian themes and sci-fi imagery. "Neptune" brings Spacette out of isolation and into the natural world. It's not just in the lyrics, either. It's in the lush, spacious vocal harmonies and airy instrumentation. Cold isolation has given way to something brighter and warmer, but still a little vulnerable.
Current Release
Spacette
You Don't Have to Rise to Shine
(Breakfast Music Group)
Street Date: August 20, 2021
Track List:
1. Neptune
2. You Don't Have To Rise To Shine
3. What It Takes
Photos (click for hi-res)