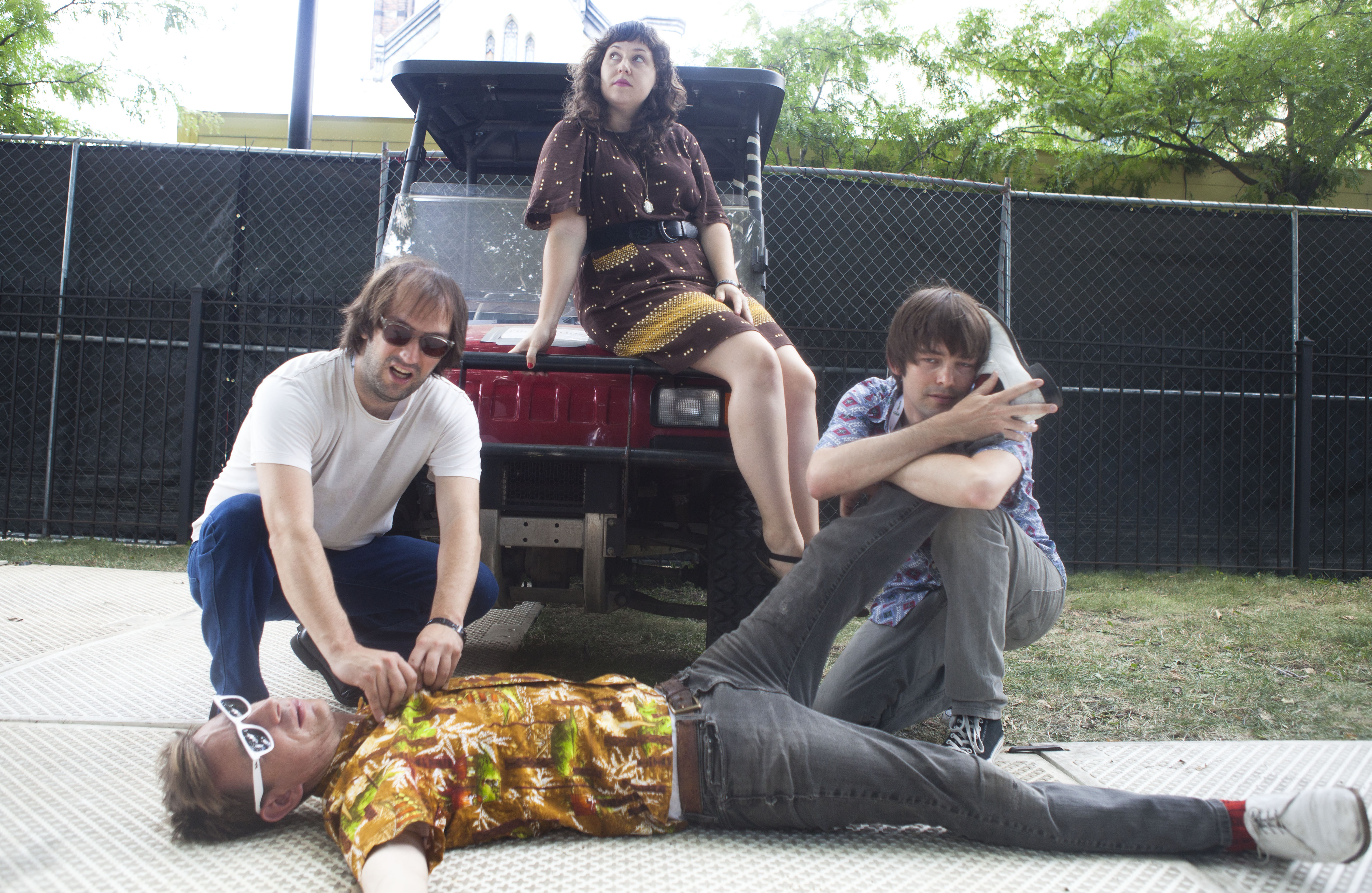 Also slated to take part in Lefse's new Way Slow series
MP3: "Lovin' On An Older Gal" –
Sonny and the Sunset's vintage-style west coast pop songs tell sordid tales of death, drowning, outcasts, heavenly visions and otherworldly despair. Their newest LP, Tomorrow is Alright radiates with a classic yet indefinable sound, almost like a futuristic 50's R&B.
California native Sonny Smith started his career playing in a blues piano bar nestled in the mountain towns of Colorado at the age of eighteen. He then embarked on a journey to Central America, where he lived on an organic farm in the Central American jungle, earning money while touring with a rag tag busking band and playing hotels and cabanas along the coast of the Caribbean. In 1996, he moved back home to San Francisco, where he continued to focus on writing music, short stories and plays. In the early 2000's he toured in support of Neko Case and Jolie Holland and released a string of solo albums titled, This is My Story, This is My Song, Sordid Tales of Love and Woe, One Act Plays and Fruitvale. Tomorrow is Alright continues his exploration of outcasts, weirdos, freaks, death, love and atypical transformation.
In 2007, he formed Sonny and The Sunsets with help from friends Shayde Sartin & Tim Cohen (of the Fresh & Onlys), Tahlia Harbour (of Citay and The Dry Spells), Ryan Browne and Kelley Stoltz (Sub Pop Recordings) among others. Together the band created Tomorrow is Alright, recorded on a classic 1970's 388 Tascam tape recorder in various uncommon places including out of Sonny's camper. Tomorrow is Alright is full of straightforward-pop songs that recall the 1950's era doo wop of The Falcons combined with the direct sincerity and positive spirit of Modern Lovers' Jonathan Richman as well as the dark confessional humor of cartoonists like Robert Crumb and Ivan Brunetti.
Sonny Smith currently resides in the Sunset District of San Francisco where he stays busy writing music and providing occasional care to disabled war veterans and other people who have fallen through the cracks of society through a Bay Area based social work agency F & CMS. He works out of an office in the back of his friends' surf shop. In addition to his work as a sometimes columnist or occasional playwright he also opened "100 Records" his first ever solo- art exhibition. The show ran for seven weeks at Gallery 16 in San Francisco; it featured 100 album-covers created by 90 different artists from around the world along with one hundred songs written and recorded by Sonny himself and a custom built jukebox to play those songs. The show then traveled to Austin and New York.
This week Sonny and The Sunsets will pack into Sonny's camper and head out on another US Tour. Their debut LP, Tomorrow is Alright, is currently available on vinyl from Soft Abuse Records, and was released on CD and digitally via Fat Possum Records on Aug. 31.
About the Way Slow series
Way Slow is a new series curated by Lefse Records. While maintaining the basic structures of a formal record label, Lefse is embracing creativity in everything from artist sound to packaging. Each release will be a unique creation from start to finish. Many of the participating artists are going to be releasing material that is well outside of their normal sound, some will be collaborations, some will be from parts of the world most of us will never see. Alongside digital downloads, the label will be offering limited edition CDs, cassettes, and even vinyl in some cases. The physical products will be hand wrapped/sewn/carved individually for every release and presented as a heartwarming package of beautiful sound. Sonny and The Sunsets will release an installment in the Way Slow series sometime this Fall, details forthcoming.
SONNY AND THE SUNSETS
09/24 Chicago, IL Beat Kitchen !
09/25 Detroit, MI Lager House !
09/26 Toronto, ON Sneaky Dee's !
09/28 Montreal, QC Bar St. Laurent !
09/29 Boston, MA TT The Bears !
09/30 New York, NY Mercury Lounge
10/01 Brooklyn, NY Union Pool !
10/03 Washington, DC DC9 !
10/26 San Francisco, CA Great American Music Hall #
10/28 Portland, OR Holocene #
10/29 Vancouver, BC Cobalt #
10/30 Seattle, WA Neumo's #
10/31 Spokane, WA Stage 54 #&
11/2 Salt Lake City, UT Urban Lounge #
11/3 Denver, CO Bluebird #
11/5 Dallas, TX Granada #$
11/6 Houston, TX Mango's #
11/9 Phoenix, AZ Rhythm Room #
11/10 San Diego, CA Casbah #
11/11 Los Angeles, CA Echo ^
11/12 Los Angeles, CA Echoplex *
! = w/ Kelley Stoltz
# = w/ Best Coast
& = w/ No Joy
$ = w/ Deerhunter & Casino Versus Japan
^ = w/ Tennis
* = w/ The Pains of Being At Heart

Sonny and The Sunsets
Tomorrow is Alright
(Fat Possum / Soft Abuse)
Street Date: Aug. 31, 2010
1. Too Young To Burn
2. Death Cream
3. Strange Love
4. Planet of Women
5. The Houris
6. Stranded
7. Bad Vibes & Evil Thoughts
8. Chapters
9. Love Among Social Animals
10. Lovin' on an Older Gal
SONNY AND THE SUNSETS LINKS:
Myspace: http://www.myspace.com/sonnythesunsets
Artist page: http://www.sonnysmith.com
Label page: http://fatpossum.com/