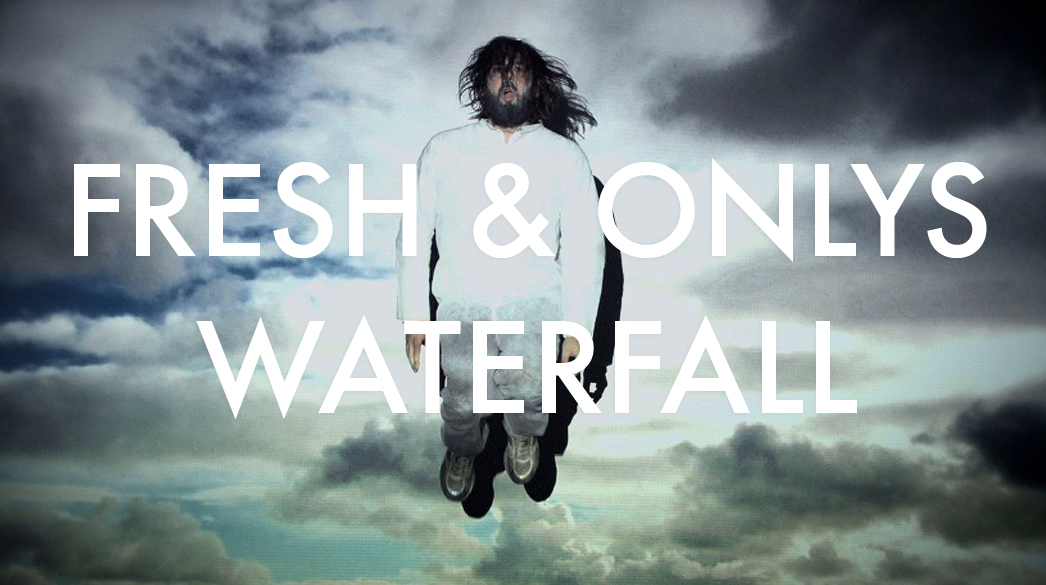 MP3: "Waterfall"
VIDEO:
"Waterfall" video credits:
Produced by Funboy Productions and Eighty Four Films
DP + Colorist: Ethan Indorf
Production Assistance: Jaxon Northon
Editor + Producer: James Dirschberger
Director: Andreas Trolf
Special Thanks: Jay Howell, 111 Minna, James Edson
This has been a decisive year for San Francisco's The Fresh & Onlys – including invitations to play All Tomorrow's Parties and then join Deerhunter for a UK tour, extensive treks throughout the US, and standout performances at the Woodsist festivals in NY and Big Sur. Keeping with their notorious urgent pace the Fresh & Onlys released a handful of exclusive 7″ singles, and Captured Tracks issued the lush and anthemic August In My Mind EP. Now to cap off the year, Play It Strange arrives this Fall from the infamous In The Red Records with a tour supporting Clinic across the US to follow.
Play It Strange is the third full length album recorded in just over two years since the band's inception with previous albums out on Woodsist and Castle Face. This newest album is also the first recording done outside the band's own analog home studio. Hot on the heels of touring and arranging these new songs live, Play It Strange was furiously recorded and mixed in one week with Tim Green (Fucking Champs, Comets On Fire) at Louder Studios in order to better capture the muscularity and depth of the band's live performances.
The Fresh & Onlys newest is a shimmering pop record full of infectious melodic hooks, led by singer Tim Cohen's hazy romanticism, and the incessantly propulsive rhythms of Shayde Sartin and Kyle Gibson. Play It Strange has an evocative moody swagger that jangles with 80's guitar pop like the Go-Betweens, Jacobites, or early R.E.M. and a provocative rawness ala Iggy Pop or The Gun Club. The record is saturated with guitarist Wymond Miles' sonic textural sprawl full of desert guitar-noir phrases that call to mind Morricone/The Bad Seeds. Play It Strange is an addictive record that will establish the Fresh & Onlys as a band that effortlessly laces together threads of great guitar bands from decades past. They may not be your favorite secret to keep much longer.
"The Fresh & Onlys are set apart by an endearingly fussy devotion to songcraft and an understated and unfakeable weirdness… their possibly unhealthy familiarity with garage-rock arcana is balanced out by a keen songwriter's eye, and their obsession with the past is elevated by genuine affection and love" -Pitchfork
"While still jangly and poppy, it's also a little gloomy, a lot new wave, with buzzy Joy Divison bass, squalls of wild psychedelic guitar, plenty of ooooh's and aaaah's, tribal drumming, angular riffing, a perfect mix of sixties jangle, and cold/new wave gloom. The production is lush, but also weird, and tripped out, ethereal and gauzy…definite contender for year ends best" -Aquarius Records
"These songs are straightforward, to the point, and fully endowed with the feelings engendered by decades of guitar rock. They're powerful examples of not just the songwriting prowess of Tim Cohen and Shayde Sartin, but of a fundamental understanding for how a good guitar line is an elemental force" -Dusted
"San Francisco's The Fresh & Onlys stood out both onstage and off, looking like a nomadic weed tribe with dark secrets and sounding like wild evangelicals with deep musical gifts" -FADER
THE FRESH & ONLYS
10/25 Memphis, TN – Hi-Tone Cafe %
10/26 Dallas, TX – The Nightmare %
10/27 Austin, TX – Emo's %
10/28 Houston, TX – Fitzgeralds %
10/29 New Orleans, LA – Siberia Bar %
10/30 Atlanta, GA – 529 %
10/31 Chapel Hill, NC – Local 506 %
11/01 Baltimore, MD – Ottobar %
11/02 New York, NY – Bowery Ballroom $
11/03 Brooklyn, NY – Music Hall of Williamsburg $
11/05 Washington, DC – Rock n Roll Hotel $
11/06 Philadelphia, PA – Johnny Brendas $
11/08 Boston, MA – Paradise $
11/09 Montreal, QC – La Sala Rossa $
11/10 Toronto, ON – Lee's Palace $
11/11 Chicago, IL – Lincoln Hall $
11/12 Minneapolis, MN – 7th St. Entry $
11/15 Seattle, WA – Neumos $
11/16 Vancouver, BC – Biltmore Cabaret $
11/17 Portland, OR – Doug Fir Lounge $
11/19 San Francisco, CA – The Independent $
11/20 Los Angeles, CA – Troubadour $
$ = w/ Clinic
% = w/ Royal Baths

The Fresh & Onlys
Play It Strange
(In The Red)
Street Date: Oct. 12, 2010
Summer Of Love
Waterfall
Until The End Of Time
Tropical Island Suite
All Shook Up
Be My Hooker
Fascinated
Plague Of Frogs
Who Needs A Man
Red Light Green Light
I'm A Thief
THE FRESH & ONLYS LINKS:
MySpace – http://www.myspace.com/thefreshonlys
Label – http://www.intheredrecords.com