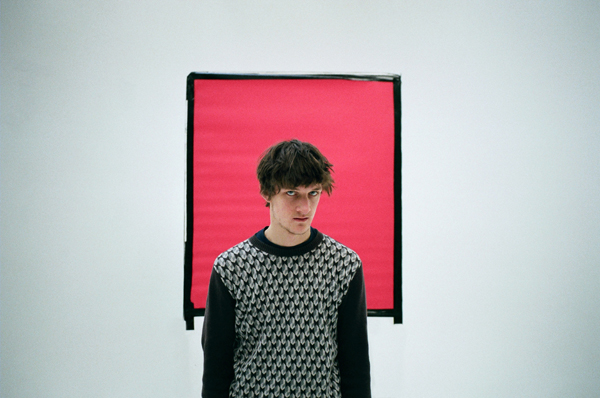 Dam Mantle
MP3: "Movement" – http://soundcloud.com/forcefieldpr/dam-mantle-movement
Dam Mantle is the dazzlingly-monikered project of Glasgow-based producer and performer Tom Marshall who has garnered a lot of hype about his work recently. Tom Marshall blends jamming hip-hop influences with electronic rhythms, making his music hard to pin down and adequately describe.
Marshall grew up in Kent where his musical history involves being in a band playing Led Zeppelin covers and a solo acoustic folk project called 'Animals And War', before the curent Dam Mantle project was born. Now studying for a Fine Arts degree in Glasgow, he's cemented his name on the burgeoning experimental dance scene after touring with Gold Panda and Toro Y Moi.
Starting off 2010 with a bang, his debut 12″ – the Grey EP on local Glaswegian label Halleluwah Hits was released in March and was met with universal acclaim and sold out within a month. His second EP, Purple Arrow was released in September 2010 via Mantle's own label, Growing.
Dam Mantle made their live debut supporting Gold Panda this Spring across the UK and since then has shared the stage with the best electronic talent around, playing through the summer with, amongst others, Pantha Du Prince, Plaid, Washed Out, Max Tundra and Toro Y Moi, as well as appearing at various European events and festivals in London, Glasgow Amsterdam, Poland, Switzerland, France, Czech Republic, Glasgow and Germany.
2011 will see him consolidating his position with recording and new releases as well as a debut American tour this spring in support of Gold Panda and a stop at SXSW in Texas in March.
When not recording and performing his own work, Dam Mantle has been busy also dropping fairly insane yet utterly wonderful mixes for the likes of Errors, Kele, Gold Panda, Gonjasufi and T3eth.
DAM MANTLE
03/16 – 03/19 Austin, TX SXSW
03/22 Vancouver, BC – Fortune Sound Club *
03/23 Seattle, WA – Nectar Lounge *
03/24 Portland, OR – Rotture *
03/25 San Francisco, CA – 103 Harriet *
03/27 Los Angeles, CA – Troubadour *
03/29 Chicago, IL – Schubas Tavern *
03/30 Toronto, ON – TBA *
03/31 Philadelphia, PA – The Arch *
04/01 Washington, DC – Red Palace *
04/02 Brooklyn, NY – Public Assembly*
* = w/ Gold Panda

Dam Mantle
First Wave
(Wichita Recordings)
Street Date: Mar 8, 2011
Track List
1. A Statue That is Perpetually Unveiled
2. Rebong
3. Grey
4. Yoghourt
5. Theatre
6. Broken Slumber
7. Purple Arrow
8. Two Women
9. March of the Prince
10. Beaching Loom
11. D1
12. D2
13. Movement
DAM MANTLE LINKS:
Label – http://www.wichita-recordings.com
Official Site – http://dammantle.com/