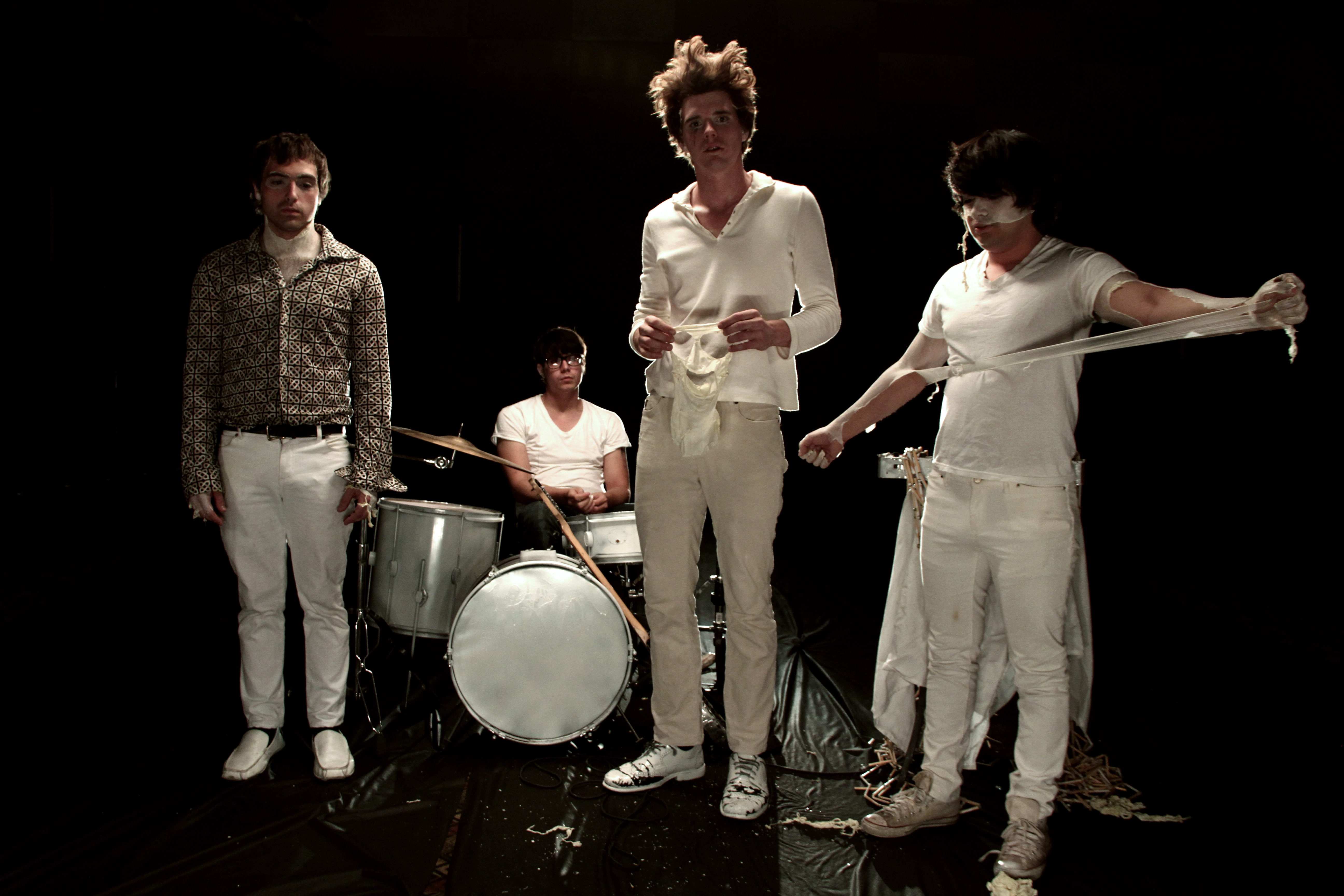 TV Ghost
MP3: "Wired Trap" by TV Ghost by forcefieldpr
VIDEO:
TV GHOST – 'Subterfuge' from Last Day on Vimeo.
TV Ghost is an American psychedelic post-punk band from Lafayette, Indiana, formed back in December 2006, while several band members still went to High School. TV Ghost's original lineup consisted of founding member's Timothy Conrad Gick and Jimmy Frezza doubling up as lead singer, guitarist and songwriter, Brahne Hoeft on keyboards and Jackson VanHorn drums. They recorded their first 7″ (Atomic Rain b/w Bird Flu) in early spring of 2007.
By the end of 2007, Jimmy Frezza had left TV Ghost to pursue art school and was promptly replaced by bassist Shawn Beckering. They recorded three more records (a self-titled 12 inch EP on Die Stasi Records, a full length LP Cold Fish on In The Red, and a 7 inch on CDR "The Fiend b/w Prodrome) and toured the U.S. extensively for the next three years.
In early 2010 just a month before recording their Mass Dream album Jackson Vanhorn left the band forcing Brahne to pick up the drums and the recently returned Jimmy Frezza to take on the key boards. They spent 10 days recording the album as three piece with Brahne pulling double duty as drummer and keyboardist while Jimmy sorted out the keyboards. They immediately embarked on a two week tour of the Southwest followed directly by a six week tour of mainland Europe.
Because of the high stress of the tour Shawn Beckering left the band shortly after returning home. They spent the summer rebuilding with the help of Tristan Ivas (the new bassist for the band and band mate of Jimmy and Brahne in previous projects), before jumping back on the Midwest touring circuit with the likes of the God Bullies in the fall of 2010.
TV GHOST
05/22 Detroit, MI Magic Stick
05/26 Milwaukee, WI Cactus Club
05/27 Chicago, IL Empty Bottle
05/29 Memphis, TN Hi Tone
05/31 Tulsa, OK The Reverb
06/02 Austin, TX Red 7 (Chaos in Tejas Festival)
06/03 Houston, TX Rudyards
06/04 New Orleans, LA Siberia
06/05 Mobile, AL Alabama Music Box
06/08 Tallahassee, FL The Engine Room
06/12 Atlanta, GA The Earl

TV Ghost
Mass Dream
(In the Red)
Street Date: Apr 12, 2011
1. Wired Trap
2. Sleep Composite
3. The Winding Stair
4. Cancor
5. An Absurd Laceration
6. The Inheritors
7. Doppleganger
8. Subterfuge
9. The Degradation of Film
10. Tropes
11. Mass Dream
TV GHOST LINKS:
MySpace – http://www.myspace.com/televisionghost
Label – http://www.intheredrecords.com/