Tickets still available 
here
Tracer
(True Panther Sounds / R&S)
Street Date: August 21, 2012
Formats: CD / LP / Digital
Artwork by Kari Altmann
STREAM: Teengirl Fantasy – "End" (Live at Club To Club in Torino) 
Teengirl Fantasy will be playing a special Valentine's Day show this Thursday at Le Poisson Rouge with Laurel Halo, Kelela, Fatherhood, and La Big Vic. Pitchfork will be streaming the show live through Pitchfork TV. You can still purchase tickets for it here.
Teengirl Fantasy have also shared a live recording of "End" from a recent show at Club To Club Festival in Torino, Italy. This extended dance-floor-ready version of the song showcases their improvisational style when playing live.
While students at Oberlin College, Nick Weiss and Logan Takahashi connected over a shared love of classic house and techno records that prompted them to make, "some kind of dance music that wasn't just emulating what we were hearing." The duo formed their music organically, improvising over loops that  eventually materialized into full-fledged compositions. Rather than relying on triggering loops, or quantization, Teengirl Fantasy's music has always been performed and composed live, resulting in a form of discourse between the band and their instruments. The result is a-typical for electronic dance music- colorful, maximalist textures and tones that move along with a driving rhythm yet still retain a distinctly human and emotional core.
In the fall of 2010, True Panther Sounds and Merok released Teengirl Fantasy's debut LP, 7AM. Titled after the, "confused, dreamy, half-awake, half-asleep state that one experiences after staying up all night partying," 7AM was critically praised for its creative use of samples and experimentation. The album made numerous year-end lists including FACT, Pitchfork, XLR8R and established the pair as electronic visionaries.
On their sophomore LP, Tracer, Teengirl Fantasy cuts through some of the haze of their earlier recordings to create their most compositionally sophisticated work yet. "It's more focused, far-reaching and it takes more risks." Unlike 7AM, Tracer is completely sample-free and features an array of vocalists including Panda Bear, Romanthony (of Daft Punk's "One More Time" fame), Laurel Halo, and newcomer Kelela. For the songs with vocalists, their approach is, "a wacked version of the pop format." The album is sonically maximal and symphonic, with heavily layered songs containing multiple elements. "The editing is more painstaking- there's more crafting to the songs," says the duo. Although Tracer touches on an array of genres such as techno, pop, R&B, and house, it simulates a cohesive journey.
Tracer was released August 21 by True Panther Sounds in North America in conjunction with R&S in Asia, Australia and Europe.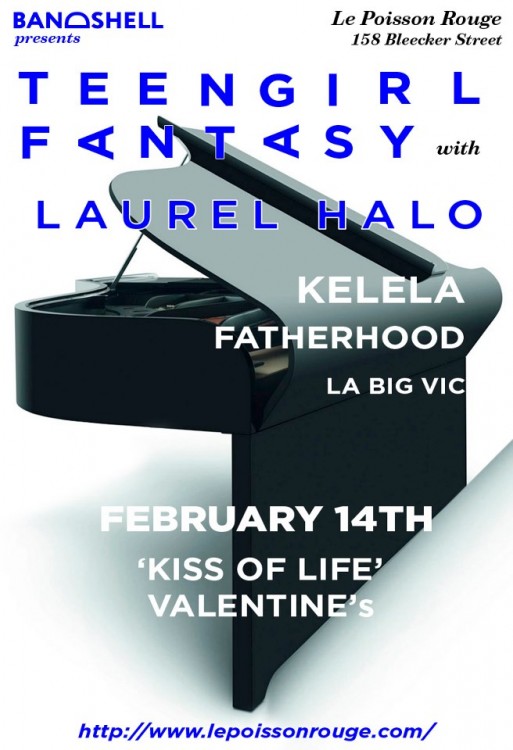 Tour Dates: 
02/14 – New York, NY – Le Poisson Rouge *
02/28 – Oberlin, OH – Oberlin
03/01 – Cleveland, OH – Cleveland Museum of Art
* w/ Laurel Halo, Kelela, La Big Vic, Fatherhood
Teengirl Fantasy
Tracer
(True Panther Sounds / R&S)
Street Date: August 21, 2012
Formats: CD / LP / Digital
Artwork by Kari Altmann  
1. Orbit
2. EFX feat. Kelela
3. Eternal
4. Pyjama feat. Panda Bear
5. Mist of Time feat. Laurel Halo
6. End
7. Vector Spray
8. Inca
9. Do It feat. Romanthony
10. Timeline
Links: