STREAM: "Cosmic Was" –
SoundCloud / Stereogum
VIDEO: EP teaser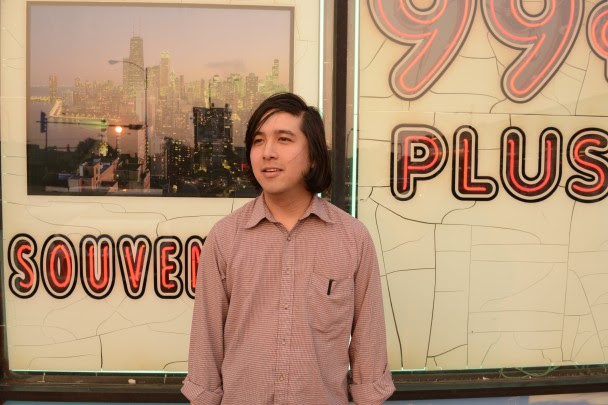 Memorize Now is the third EP from Chicago's J Fernandez, his first release for the Atelier Ciseaux label (Best Coast, Amen Dunes, Mount Eerie, Dirty Beaches).
Having migrated to Chicago for a job with the Rand McNally map company in the early aughts, J, or Justin, spent his following years playing in friends' projects in Chicago's active DIY scene. In his own time, he was mapping out out a series of personal recordings in his rudimentary home studio, it was these recordings that would develop into the first EP, Olympic Village.
Though somewhat crudely recorded (the lively Puerto Rican festivals of his adopted Humboldt Park neighborhood made cause for some creative EQ tinkering), that EP and its follow-up, No Luck, both showed undeniable songwriting prowess, and were released by Chicago-based labels Teen River and Lake Paradise. The resulting response that ensued from these releases earned diverse comparisons ranging from Stereolab to Syd Barrett to a young Robyn Hitchcock, while also earning some gentle jibes from his peers asking if he ever left his apartment after having been labeled a "bedroom pop artist."
With many tracks built around the dense all-or-nothing sibilation of a Vox Jaguar organ, J Fernandez's creations resonate deep into the inner ear, distorting sense of time and place but feeling relatable and familiar all the same. While "nostalgia" is a comfortable word to describe these tunes, not all pop music has to fall into that blasé carefree zone. In fact, that might undermine not only Fernandez's craft, but also the amount of self-conscious awareness that makes his compositions so reflective and true.
His latest offering, Memorize Now, extends and refines the compact retro-futuristic pop ideas of No Luck, whilst again being recorded in his home above a stained glass studio and with Fernandez again playing the majority of instruments heard in the recordings, it gives new life to the horns, vintage organs, tape delay and bright guitar of his previous releases with some of his most confident songwriting and production to date.
Grounded by the pensive "Image" and "Close Your Eyes", the EP lifts off on the interlocking Radiophonic loops and arpeggios of "Failed Scales" and demure funk of "Cosmic Was". Behind all of it, a loose but metronomically precise rhythm section maintains an air of effortless cool.
Sounding fresh and new while mining the annals of early electronic pop and psychedelia, Memorize Now manages to pack a long-player's share of ideas into an economical 16 minutes.
J FERNANDEZ
9/18 – New York, NY – Baby's All Right *
9/19 – Montreal – Pop Montreal @ O Patro Vys #
10/14 – Chicago, IL – Township %
10/16 – Indianapolis, IN – Joyful Noise $
10/17 – Atlanta, GA – Mammal Gallery &
10/18 – Durham, NC – Duke Coffeehouse
10/20 – Baltimore, MD – The Crown
10/21-10/25 – New York, NY – CMJ
10/27 – Pittsburg, PA – Gooski's
11/07 – Grand Rapids, MI – Lamplight Fest
* = w/ Skygreen Leopards, Lower Plenty
# = w/ Seoul
% = w/ Krill, Yeesh
$ = w/ Idiot Glee
& = w/ Frankie Broyles(Deerhunter), Hellier Ulysses
Past praise for J Fernandez:
'J. Fernandez draws on the motoric patterns of bands like Stereolab and the shifty meters of progressive rock in songs that were modest on the surface but gently insistent. Proudly intelligent indie-rock' – The New York Times
'"No Luck" is a mellow, mournful track, highlighting Fernandez' falsetto and culminating in a minimal sax solo.' – Pitchfork
One of NME's 24 bands everyone will be talking about after SXSW 2014.
'The "Fall in love" refrain in J Fernandez's Real Flowers is truly ominous, but creepy lyrics when buried inside a bedroom recording as beautifully constructed as this are needed to stop things getting too cozy. The analog synth coaxes the dark taint along further, off-key notes breaking the comforting, hazier bed this track rests upon. This is why I love Real Flowers-not everything has to exist in the land of twee and sparkly joy just because it's not punk or noise.' – Noisey
'J Fernandez makes music of almost naive purity, hinting at a rich vein of smart pop, from The Byrds to Stereolab to Shuggie Otis. Drift away in this lovely album' – Dazed and Confused
'Amazing recordings – required listening' – yvynyl
'Fernandez has an array of sound and flexible ideas that make him a must-watch. Like, moving to Chicago and stalking him.' Tiny Mixtapes
'Why J Fernandez isn't the biggest band in the world is beyond me' I Guess I'm Floating
'Each creation he reveals is better than the last' – Dummy
'Perfect Dream Pop' The 405
J Fernandez
Memorize Now EP
(Atelier Ciseaux)
Street Date: Oct. 14, 2014
 
Track List:
Side A
Memorize Now
Image
Failed Scales
Side B
Cosmic Was
Geneva
Close Your Eyes

J FERNANDEZ LINKS: