STREAM: "I Am Seen"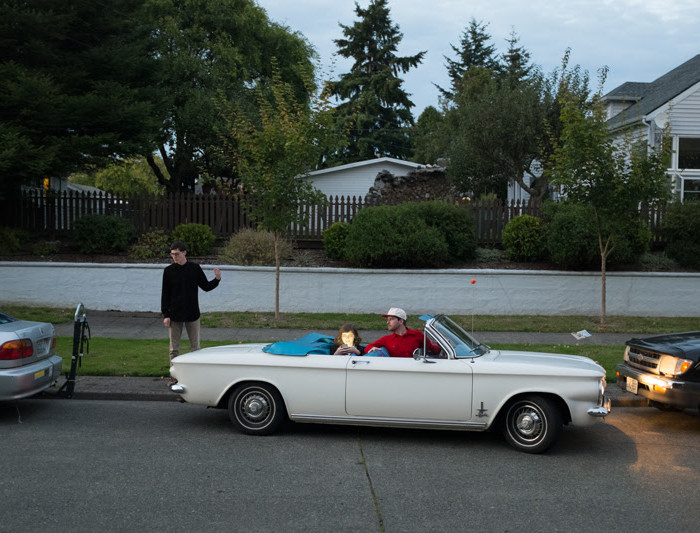 This week marks the release of Washington trio Hungry Cloud Darkening's sophomore album 'Glossy Recall,' out now via Pacific Northwest music label Off Tempo (purchase here).
Today NPR highlights their song "I Am Seen" on the All Songs Considered blog. Hear the track they describe as "part bummer Beach Boys, part Twin Peaks soundtrack" over at SoundCloud.
Hungry Cloud Darkening is the collaborative all-analog recording project of Nicholas Wilbur, Allyson Foster, and Paul Benson. Each song is co-written in a slightly different way- all with priorities in variety and spectrum and fidelity. The three grew up in Mountain Home, Arkansas and Nixa, Missouri but have resided and operated in Anacortes, Washington for the past 6 years collectively. The project inhabits recording/event space the Anacortes Unknown, where Nich is the head engineer.
'Glossy Recall' is a perfect showroom of unique and familiar spectrally disparate organic sounds. We are granted ample space to stand and observe the vintage-innovative use of fundamental flowers guitar and keyboard and voice and bear witness to extinct monolithic bass melodies as they once existed: clear and 3D and uncompromised by medium. The combination of the honed life-like nature of the engineering and the sparse playful behavior of the music will warrant and reward indefinite loud listens for both audiophiles and lyrics-learners alike. Allyson's cosmic breathy words are projected into a boundless space of idle moments, decaying relationships, remembering, and misremembering, painting a picture of a rainy window view with an implied meditation on it's blip nature among seasons lapsed and forthcoming. Though the record is foremost an irreverent attempt to create a new color, Glossy Recall seems to call forth feelings from listenership phases rich and deep in Roy Orbison, Yo La Tengo, Secret Square, and This Mortal Coil.

Hungry Cloud Darkening
Glossy Recall
[OFF TEMPO]
Street Date: October 7, 2014
1. Clearly Seen
2. I Am Seen
3. Hold This Moment
4. You Look Around
5. Time To
6. Talk About Something
7. Fading Comfort
8. Blue Green
9. Hidden And No Trace
10. Inhibited Window