Young

Ejecta

shares "Into Your Heart" from forthcoming mini-album    
Stream: –

Young

Ejecta

– "Into Your Heart" –
Young
Ejecta
previously released the songs "
Welcome To Love
" and "
Your Planet
," from their forthcoming mini-album,
The Planet
. Now, you can hear a new song, "
Into Your Heart
" over at
Gorilla vs Bear
.
Young
Ejecta
is an electronic duo based in Brooklyn, NY comprised of singer-songwriter Leanne Macomber (Fight Bite, Neon Indian) and acclaimed producer Joel Ford (Autre Ne Veut, Oneohtrix Point Never, Ford & Lopatin). Their collaboration began in 2012 when Ford sifted through years of Macomber's foggy melodic bedroom demos. He, in turn, offered instrumental pieces of his own and a record was in the works. His slick sound and skillful arrangements elevated Macomber's lo-fi pop ballads, while her acrobatic melodies and whispery vocals gave whimsy and dimension to Ford's determined beats and dance-able textures.The result was their well received genre-traversing debut
Dominae
, released November 5th, 2013 on Driftless Recordings (US) / Happy Death (UK). The band would go on to perform these ten tracks showcasing their inspired yet disparate talents in a variety of iterations and settings. Macomber's previously frayed-edged love songs were now granted the grandiosity of the emotions implied therein. What Leanne describes as Joel's "endless tinkering" now urges and embellishes the themes she is forever exploring in her music: "Unrequited love, failed attempts at adulthood," and perhaps most importantly, "the death of her closest friend."
Macomber describes Young Ejecta as a character, one that is conceptually represented by volcanic activity and the earth's constant state of change and rebirth. Leanne explains a desire for Young Ejecta to be "universal", "timeless," and representative of the "everywoman".
Young Ejecta's upcoming release The Planet is an expressionistic marrying of ambient omniscient storytelling and seductive glittery unrestrained dance floor mayhem.
The Planet drops January 27th, 2015 via Driftless Recordings (worldwide).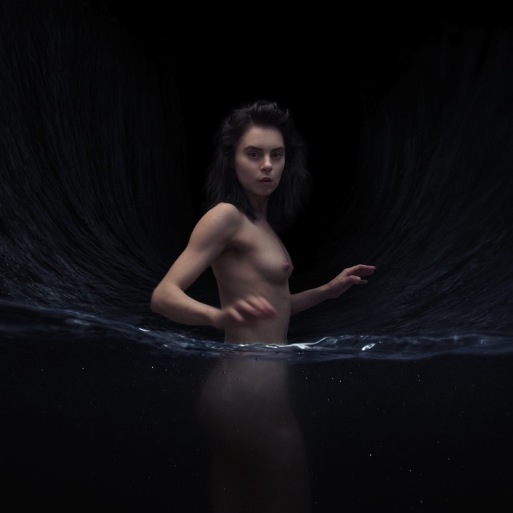 Young Ejecta
The Planet 
(Driftless Recordings)
LP/DL
3. All Day
4. Recluse
6. What You Done
YOUNG EJECTA LINKS: