STREAM: "You Got Under My Skin"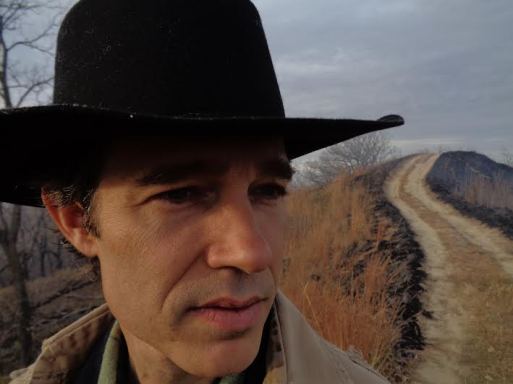 Photo by Sara Adkisson Joyner  –  (click image for high-res)
Simon Joyner is a renowned American singer-songwriter who first came to prominence during the Lo-Fi movement of the early 90's alongside contemporaries mining similar territory, like Will Oldham, Peter Jefferies, the Mountain Goats, Smog, and Alastair Galbraith. Joyner was championed early by the late British DJ, John Peel, who famously played Joyner's 1994 LP, "The Cowardly Traveller Pays His Toll", start to finish on one of his BBC programs, initially making Joyner more well known overseas than in his own country. Considered a forefather of the Omaha music scene, he's been releasing critically acclaimed albums on various independent labels every few years for over two decades. He keeps a low profile and tours only occasionally, spending most of his time working and raising a family, allowing writing and music to remain an artistic outlet rather than an occupation.
"Grass, Branch & Bone" is Joyner's thirteenth proper album and a sonic departure from 2012's "Ghosts". While his last record was a double album of dark, dissonant songs confronting death and loss in the vein of Neil Young's "Tonight's the Night", this new album is sparse by comparison, running with the likes of other singer-songwriter outcast aftermath albums like Dylan's "John Wesley Harding", Gene Clark's "White Light", David Blue's "Stories", Jerry Jeff Walker's "Five Years Gone", Townes Van Zandt's "Our Mother the Mountain" and Cohen's "Recent Songs". It's a natural progression, after a funeral we always take stock and reflect on our own life. "Grass, Branch & Bone" is a song cycle of short stories about time and memory, full of people you've known and people you've been. Stream the album's first single "You Got Under My Skin" on Stereogum. The album is available for pre-order now in digital and LP formats.
"Pound for pound Simon Joyner is my favorite lyricist of all time.  He has shades of all the greats (Van Zandt, Cohen, Dylan) but exists in a space all his own.  Since I first heard his music at the tender age of twelve not a year has passed that I haven't waited for and been rewarded with an amazing Simon Joyner release of one kind or another.  This year is no exception.  He truly is an American songwriting treasure.  It is my hope that more people will discover his music and share in the unique joy that it brings." – Conor Oberst
"My favorite poet is Simon Joyner." – Gillian Welch
(click image for high-res)
Simon Joyner 
Grass, Branch & Bone
[Woodsist] Release date: March 17, 2015
1. Sonny
2. Train to Crazy Horse
3.
You Got Under My Skin
4. Jefferson Reed
5. Some Fathers Let The Sunset Bring Them To Their Knees
6. Old Days
7. I Will Not Be Your Fool (The Muse's Song)
8. In My Drinking Dream
9. Nostalgia Blues