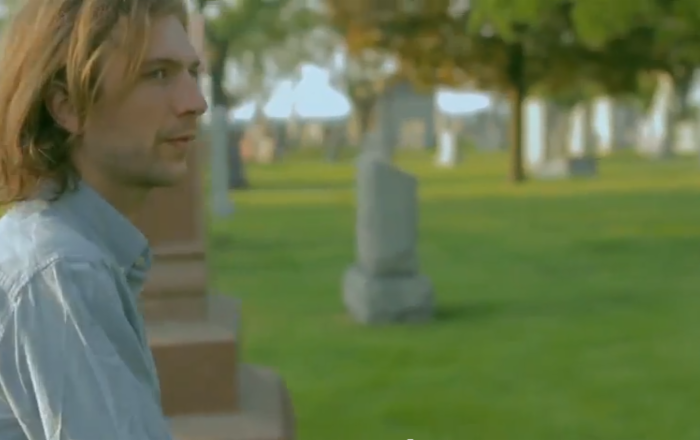 "Who is this Jimmy Whispers," you'll ask yourself the first time you hear him, whether he's leaping out at you metaphorically from your speakers or leaping out at you literally from the stage during a live performance fraught with physicality and emotion.
It's a good question, who this guy is, and there's no easy answer. He's been called Chicago's "greatest new homegrown musical enigma" by Jessica Hopper in the Chicago Tribune, and a "weirdo loner" by himself. While both of those descriptions are correct, neither one's complete. He's an enigma, true, but one who sings directly from the heart about the broadest of human feelings: the need to love and be loved. Yes, he's a loner, but one who spends his free time organizing basketball tournaments to raise money for community nonprofits, and ends his concerts by mashing audience members together to slow dance to Louis Armstrong's "What A Wonderful World."
.
Jimmy Whispers is a walking, talking, singing, and dancing bundle of paradoxes. Greatest among them, perhaps, is his ability to transform the most seemingly basic melodies sketched out hastily with an electric organ on an iPhone voice message into such a profound racket, or how this dirty weirdo from Chicago managed to insinuate himself into the tradition of great American sentimental balladeers.
His music will make you laugh and cry and dance and, unless you're terminally jaded and hardhearted, it'll make you genuinely feel something. And no matter how many times you listen you'll keep asking yourself, for a multitude of reasons, "Who is this fucking guy?"
.
A word from Jimmy on Summer In Pain:
"Summer In Pain, I cannot explain. There was so much more beneath the surface than the pain I was romanticizing. The world is ending and I am dying and this is really happening. This moment is the closest we have ever been to the future. There are things I will never understand but I hear a heartbeat crying out through the distortion in this burnt out fucked up universe and I can feel it. This is our summer in hell together! This ain't no Toys R'Us cuz Jimmy don't play so get the fuck out of the kiddie pool. This is apocalyptic love sickness."
TOUR DATES:
2/17 – Chicago, IL – Thalia Hall *
3/06 – Brooklyn, NY – Baby's All Right – Carpark Anniversary Party (early show)
3/06 – Brooklyn, NY – Palisades (late show)
3/07 – Washington DC – DC9 – Carpark Anniversary Party
3/08 – New York, NY – Cake Shop
7/17 – 7/19 – Chicago, IL – Pitchfork Music Festival
* = w/ Ariel Pink
What the press is saying about Jimmy Whispers:
"Beneath all the eccentricity are some solid hooks, and his upcoming album Summer in Pain (out March 24 on Moniker/Field Mates) sounds like classic Strokes run through your grandma's record collection. But the record is just part of the whole Jimmy Whispers experience, which expands beyond the confines of music and well into performance art and philosophy." -EW 
"The longing to be heard, and the desperation of admitting that to an iPhone and not to a person, makes Whispers' simplistic refrains like "Tell me that the love you have wasn't real" all the more raw." -Pitchfork
"This is the kind of music that embraces the introspective look at life, where mentally you feel like you're walking into a wall over and over and over again-until you widen your perspective and realize that, shit, there was a door right next to you the entire time." -Noisey
"His songs, unlike his street art, have a clear message: they're about love, the kind that can overcome misery and brutality." -Chicago Reader
Jimmy Whispers 
Summer In Pain  
(Moniker / Field Mates) 
Street Date:

March 24, 2015
Track List:
1. Intro
2. I Love You
3. Vacation
4. Heart Don't Know
5. Pain In My Love
6. Michael, Don't Cry
7. I Get Lost In You In The Summertime
8. Keeping Me High
9. (Summer In Pain)
10. Heartbeat