'Heartless Heathen' 
out
October 30
STREAM: "Get Up, Get Out"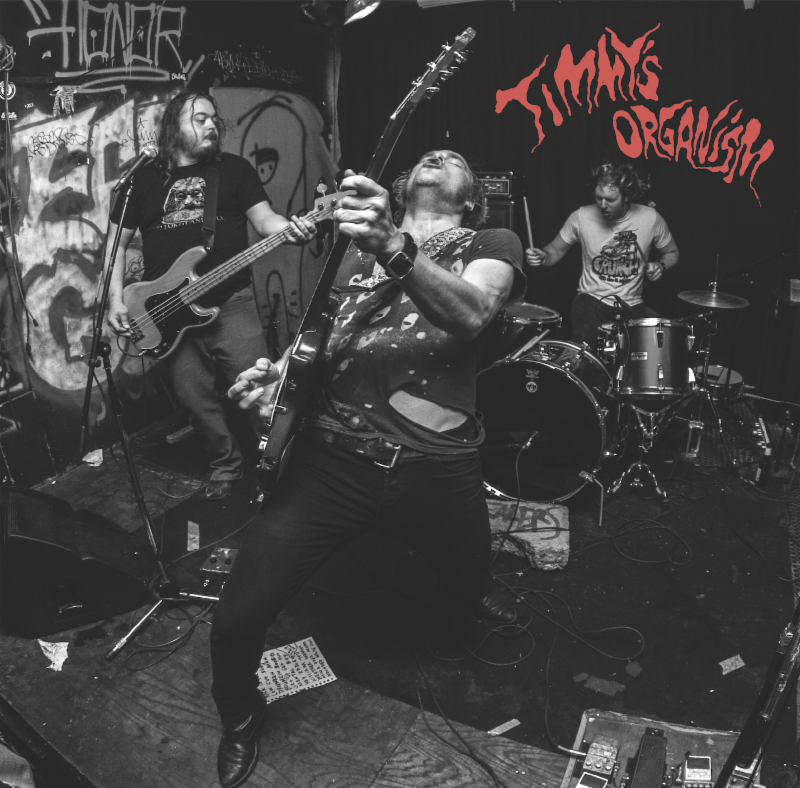 Photo Credit: Kevin McCann  –  (Click Image for High Res)
Punk garage group Timmy's Organism have signed to
Third Man Records
, and are set to release their new album
'Heartless Heathen'
on
October 30
. Hear the album's first single "
Get Up, Get Out
" over at
Stereogum
. The track will also be released as a 7″ vinyl single, due
September 4
(
pre-order
).
.
Fronting some of the most original, compelling and unpredictable bands (not only in Detroit, but the world) for over two decades, Tim Lampinen's work with the Epileptix, Clone Defects, and Human Eye has always held a rapturous cult following. Yet his work with his current trio, Timmy's Organism, presents Lampinen (aka Timmy Vulgar) along with bassist Jeff Giant and drummer Blake Hill, ready for their close-up. With Heartless Heathen the group touches on their artistic and spiritual forbears of Captain Beefheart and Destroy All Monsters, while amply ramping up the slop culture rapture of classic punk 'n' roll like Chrome, Crime, and the Damned as well as contemporaries like Thee Oh Sees. There's a reason why Lampinen won a $25,000 Kresge Grant for his work with his bands…he creates music that borders on art, live shows that border on theater. It's high time the rest of the world takes notice. Are you ready?
Timmy Vulgar, Detroit's favorite son, and most ambitiously amphibious creative force doesn't need much of an introduction to anyone familiar with subversive punk music over the past decade and a half. He's been such an irreplaceable figure in each of his musical endeavors since his emergence in such legendary acts such as the Epilieptix and Clone Defects back in the late 1990s, right up through his shape-shifting efforts in the mollusk-like Human Eye and the prog-soaked Reptile Forcefield, and straight into his latest nerve-numbing scatterbomb known simply as Timmy's Organism. (Todd Killings, Hozac Records)
.
For Timmy's Organism, Timmy Vulgar wrangles up a trio of like-minded degenerates and leads them through dismantled punk, space-blues, and debris-sodden noise with deft ease. (Larry Hardy, In the Red Records)
.
How can KURT VILE fans sleep at night knowing that this fucking guy is out there, ruling the universe? Seriously, Timmy Vulgar – punko-futuro from EPILEPTIX, CLONE DEFECTS and HUMAN EYE – makes everyone else look like a fucking joke. (Mitch Cardwell, Maximum Rock'n'Roll)
.
Timmy's Organism is the next logical step in a family of Michigan noise that includes the now defunct Pirhanas as well as Tentacle Lizardo, The Frustrations, Reptile Forcefield and even Tyvek. More stripped down and raw than anything Human Eye has done to date but no less intense. (Maurice Moore, Chicago Evensi)
(Click artwork for high res)
Timmy's Organism
Heartless Heathen
[Third Man Records]
Street Date:

October 30, 2015
1.
Get Up, Get Out
2. Heartless Heathen
3. Please Don't Be Going
4. Mental Boy
5. Wicked Man
6. Back in the Dungeon
7. Weather Woman
8. My Angel Above
9. Hey Eddie
10. Wounded White Dove
.