-tUnE-yArDs' Nate Brenner's solo project
-Sophomore album 'Mister Divine' out October 16 on City Slang
ALBUM STREAM: 'Mister Divine'
SoundCloud / KCRW
Photo Credit: Thomas Neukum – (Click Image for High Res)
Soul/electronic musician and tUnE-yArDs bassist Nate Brenner (aka Naytronix) is set to release his sophomore record 'Mister Divine' on October 16 via City Slang. The album is now available for pre-order on iTunes and on CD/Vinyl.
You can stream the album in its entirety a week early via KCRW's Album Preview. The album is also available to stream on SoundCloud.
Naytronix's latest musical offering sees him turning from the disjointedly funky party dance anthems of his debut Dirty Glow (2012, Plug Research) to a surrealist stream of consciousness poignancy. While his music keeps its characteristic reflection of '70s Onyeabor and Bootsy Collins, there is a new facet of the sincerity and vulnerability of Arthur Russell amidst the psychedelia, as if wishing to land the Naytronix Mothership down to stay with us for a bit.
On 'Mister Divine,' the intricate and wide-spanning production of his debut is cinched tight as a racing foil as he goes back to where it all started: his bass, his voice, the secrets of drum machines and dreams, narrowing down his songwriting style to focus on narrative and cohesive arrangements; The Song. The result was hours of music not likely to see the light of day, tracks taken to the chopping block at the now iconic Oakland studio "New, Improved Recording" with friend, collaborator, and guitarist Mark Allen-Piccolo. He and Brenner, along with percussionist Robert Lopez, sculpted nine songs into something resembling a compact trio album, which was then finished with sounds and textures from fellow Oberlin Conservatory family members Matt Nelson and Noah Bernstein (tUnE-yArDs saxophones) and synth master Michael Coleman (Beep!).
As music and life become one for the touring musician living (in) the dream, the line between plays and days gets more and more blurred. And in the Naytronix dreamland, no one's there to dictate which is which.
Tour Dates:
10/16 Brooklyn, NY – Secret Project Robot
10/18 Philadelphia, PA – Franky Bradley's
10/20 Chapel Hill, NC – The Cave
10/22 Richmond, VA – Gallery 5
10/23 Charlottesville, VA – Twisted Branch Tea Bazaar
10/24 Lexington, KY – Al's Bar
10/26 Cincinnati, OH – The Comet ~
10/30 Chicago, IL – Uncommon Ground
11/03 Oakland, CA – Leo's
11/18 DE Hamburg – Hafenklang **
11/19 DE Berlin – Monarch **
11/20 DE Nuremberg – Zbau
11/21 DE Leipzig – Baustelle
11/25 UK Birmingham – The Rainbow
11/26 UK Bristol – OLD Bookshop
11/27 UK Leeds – Brudenell @
11/28 UK London – Shacklewell Arms
11/29 UK Brighton – Mutations Festival
~ with Lazy Heart
** with Deradoorian
@ with Ought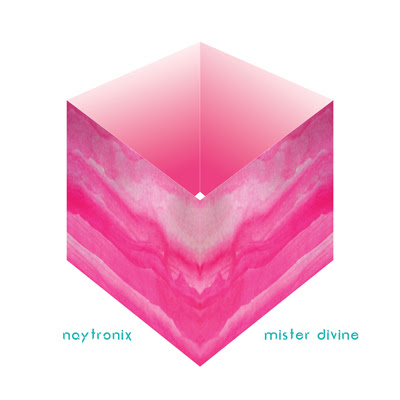 (Click artwork for high res)

Naytronix
Mister Divine
[City Slang] Release Date: October 16, 2015
1. Mister Divine
2. Starting Over
3. Dream
4. Back in Time
5. The Wall
6. I Don't Remember
7. Future
8. Living in a Magazine
9. Shadow
NAYTRONIX LINKS:
Official: http://naytronix.com
Facebook: https://www.facebook.com/pages/Naytronix/209196535802293
Label: http://www.cityslang.com