NEW ALBUM VEGA INTL. NIGHT SCHOOL NAMED BEST NEW MUSIC BY PITCHFORK & IS OUT NOW
WATCH "SLUMLORD RISING" HERE
Coinciding with Friday's release of the acclaimed new album VEGA INTL. Night School, Neon Indian (aka Alan Palomo) has shared an epic short film "Slumlord Rising." Opening with a stunning continuous four minute tracking shot, the film delves into the seedy, and sometimes blood-soaked, Los Angeles nightlife world. Co-directed by Palomo and Tim Nackashi, the film is presented as part of a special collaboration with Yours Truly and Wetransfer, arriving in conjunction with a complete oral history of VEGA INTL. Night School featuring the voices of 15 of the album's contributors.
The new video arrives alongside a relaunch of Neon Indian's hotline number, which was originally introduced in August to give fans a taste of the new material. Fans who call +1-512-643-VEGA will hear a special greeting from Alan and be sent a preview gif of the video.
In the weeks surrounding the album's release, VEGA INTL. Night School has garnered a Best New Music review from Pitchfork, yielded an energetic live performance on The Tonight Show With Jimmy Fallon last week, and inspired a slew of features from FADER, COMPLEX, Paste, Fast Company, Village Voice, VICE, Slant, DIY, SPIN, NPR First Listen and Entertainment Weekly.
Press photo (below) by Pooneh Ghana
READ THE FULL YOURS TRULY FEATURE HERE:
http://yourstru.ly/stories/neon-indian
WATCH NEON INDIAN ON THE TONIGHT SHOW WITH JIMMY FALLON:
http://smarturl.it/NI_FallonTonight
BUY VEGA INTL. NIGHT SCHOOL FROM ITUNES:
http://smarturl.it/NI_VEGAINTL
ORDER VINYL AND OTHER MERCH:
http://smarturl.it/NIVEGAINTL_MPStore
PRESS QUOTES ON VEGA INTL. NIGHT SCHOOL:
"The most deluxe, comprehensive Neon Indian album yet." – PITCHFORK
"Palomo peels back the layers of psychedelia that have sometimes obscured his
work in the past, striving for a directness that results in the most crystallized –
and accessible – version of his aesthetic yet." – ROLLING STONE
"This is not only Neon Indian's best record, it is one of the best of the entire
year." – THE 405
"A grizzly splendor of spindled guitars and futuristic synth lines, while vocally he
reaches for an intone that could reasonably pass as Prince in braggadocio form." – UNDER THE RADAR
"The album rewards investment in its world, and that world feels fully realized –
alive, even." – THE VERGE
TOUR DATES:
10/20 – Minneapolis, MN – First Avenue
10/21 – Madison, WI – Majestic Theatre
10/22 – Columbus, OH – A&R Music Bar
10/23 – Buffalo, NY – Tralf Music Hall
11/07 – Austin, TX – Fun Fun Fun Fest
11/08 – New Orleans, LA – Republic
11/10 – Atlanta, GA – Terminal West
11/11 – Saxapahaw, NC – Haw River Ballroom
11/14 – Pittsburgh, PA – Mr. Smalls Theatre
11/15 – Philadelphia, PA – Union Transfer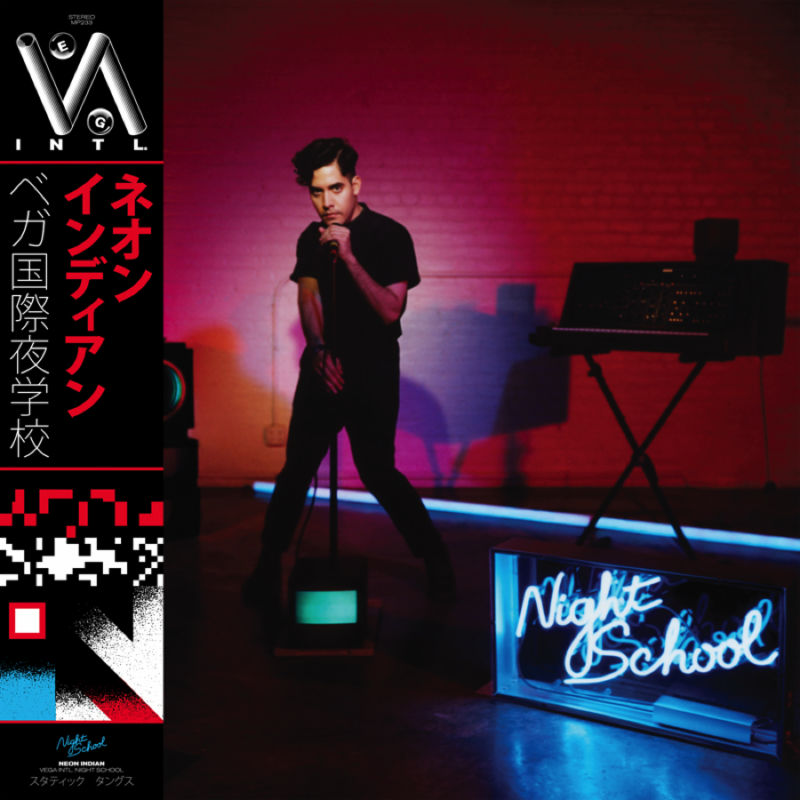 Neon Indian
VEGA INTL. Night School
(Mom + Pop)
Street Date: Oct. 16, 2015
Track List:
1. Hit Parade
2. Annie
3. Street Level
4. Smut!
5. Bozo
6. The Glitzy Hive
7. Dear Skorpio Magazine
8. Slumlord
9. Slumlord's Re-Lease
10. Techno Clique
11. Baby's Eyes
12. C'est La Vie (say the casualties!)
13. 61 Cygni ave.
14. News From the Sun (live bootleg)
FOR ALL US PRESS INQUIRIES CONTACT DANIEL GILL AT FORCE FIELD PR daniel@forcefieldpr.com OR TREVOR DE BRAUW AT BIZ 3 trevor@biz3.net
NEON INDIAN LINKS:
FACEBOOK
TWITTER
INSTAGRAM
NIGHT SCHOOL
PRESS ASSETS