Band launches North American tour on Halloween in DC
VIDEO: "Now I'm Ready" (Feat. Ocean Hope) –
YouTube / PAPER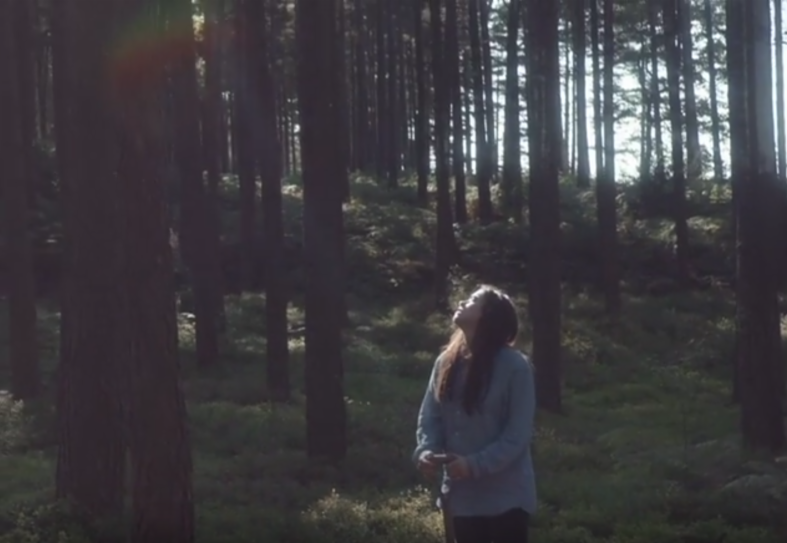 Today Keep Shelly In Athens shares the video for "Now I'm Ready" (Feat. Ocean Hope) directed by FACES, via PAPER Magazine.  The band and video directors also spoke with PAPER about the new album and the story of how the video came together.  PAPER compares the style of the video to that of acclaimed director Lars Von Trier, a high compliment in our book. The band is currently prepping for its North American tour, which launches on Halloween in DC (full dates below). The band's new album, Now I'm Ready was released on Oct. 16 on Friend of Friends.
Bio:
Born in the midst of a creative surge in the pop-leaning underground, Greek act Keep Shelly In Athens have been a force in the indie world for the last half decade, releasing projects on Cascine, Gorilla vs. Bear label arm Forest Family and British heavyweight Planet Mu. Now, the Athens-based duo arrive on Los Angeles outlet Friends of Friends with the Now I'm Ready LP, their second official LP and their most emotionally mature, sonically adventurous effort to date.
At eight songs and 45 minutes, the album strikes a concise, yet imposing figure, each individual effort comprised of enough peaks and valleys to bring the listener to the edge and back again. Lifted off by lead single "Fractals", Now I'm Ready is not your typical indie effort, un-beholden to tempo and style, the album skips across genre tropes with ease, each track guided by producer RΠЯ's singular aesthetic and vocalist Myrtha's unmistakable crescendos.
And whether you're locked into a long road trip, careening around a city or looking over the Mediterranean, Keep Shelly In Athens bring an arresting pathos to the proceedings, felt everywhere from the breakbeat-led madness of "Hollow Man" to the ever-building, hypnotic vocal qualities of "Now I'm Ready". It's only the duo's second official LP, but considering their release history on outlets as diverse as Cascine, Forest Family and Planet Mu, it's no surprise that their arrival on Friends of Friends is such an unabated success.
TOUR DATES:
10/31 – Washington, D.C. – U Street Music Hall
11/03– Boston, MA – Great Scott
11/04 – Philadelphia, PA – Johnny Brenda's
11/05 – New York, NY – Le Poisson Rouge
11/07 – Asheville, NC – The Mothlight
11/09 – Atlanta, GA – Purgatory
11/10 – New Orleans, LA – Hi-Ho Lounge
11/11 – San Antonio, TX – Limelight
11/12 – Austin, TX – Empire Control Room
11/13 – Dallas, TX – The Foundry
11/14 – El Paso, TX – The Lowbrow Palace
11/16 – Phoenix, AZ – Valley Bar
11/17 – San Diego, CA – Casbah
11/18 – Los Angeles, CA – Club Bahia
11/19 – San Francisco, CA – Rickshaw Stop
11/20 – Oakland, CA – Awaken
11/21 – Seattle, WA – Sunset
11/22 – Vancouver, BC – Fortune
11/23 – Bellingham, WA – The Shakedown
11/24 – Spokane, WA – The Bartlett
11/25 – Walla Walla, WA – Main Street Studios
11/27 – Denver, CO – Lost Lake
11/28 – Kansas City, MO – The Riot Room
11/29 – Springfield, MO – Outland Ballroom
11/30 – Des Moines, IA – Vaudeville Mews
12/01 – Minneapolis, MN – 7th Street Entry
12/02 – Madison, WI – The Frequency
12/03 – Chicago, IL – Schuba's
12/04 – Toronto, Ontario – The Drake Hotel
12/05 – Montreal, Quebec – Fairmount
All Dates w/ Different Sleep
Keep Shelly In Athens
Now I'm Ready
(Friends of Friends)
Street Date: Oct. 16, 2015
Order via iTunes / Bandcamp
Track List:
1. Fractals
2. Silent Rain
3. Now I'm Ready (featuring Ocean Hope)
4. Line 4 (Orange)
5. Benighted
6. Hollow Man
7. Nobody
8. Hunter
KEEP SHELLY IN ATHENS LINKS: