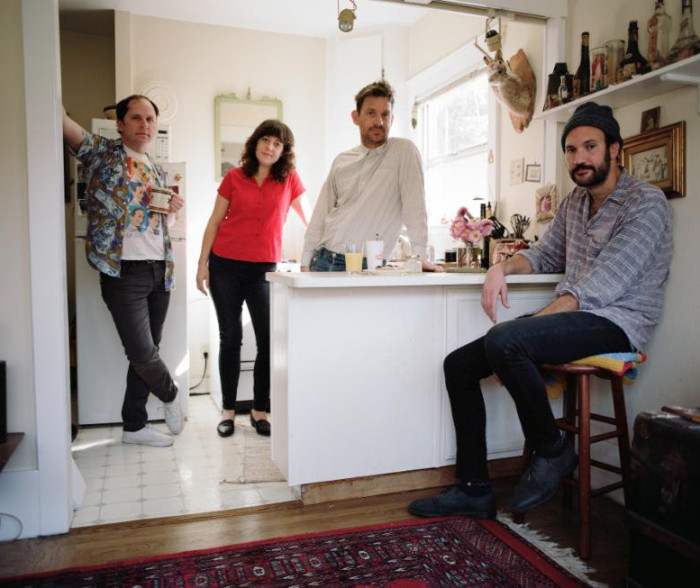 For their sixth official full-length, Sonny & The Sunsets teamed up with producer Merrill Garbus (tUnE-yArDs) to create a new wave masterpiece called Moods Baby Moods. The album is due on May 27 on Polyvinyl, and the band has shared the 2nd single from it, simply called "Moods" via NME. This past weekend, Sonny joined Dan Auerbach and his new band The Arcs for a rousing version of an older Sonny track, "Too Young To Burn" (The Arcs have covered it in the past) which you can see footage of here.
06/04 – San Francisco, CA – The Chapel
06/15 – Vancouver, BC – Psych Night @ Baltimore Cabaret
06/16 – Seattle, WA – Tractor Tavern
06/17 – Portland, OR – Mississippi Studios
06/18 – Eugene, OR – Hi Fi Music Hall
06/19 – Guerneville, CA – Deathstock II
06/23 – Los Angeles, CA – The Echo
06/24 – San Diego, CA – Soda Bar
06/25 – Visalia, CA – Cellar Door
07/07 – Chicago, IL – Empty Bottle
07/08 – Cincinnati, OH – MOTR
07/09 – Cleveland, OH – Happy Dog
07/12 – Somerville, MA – ONCE Ballroom
07/13 – New Haven, CT – BAR
07/14 – Philadelphia, PA – Kung Fu Necktie
07/15 – Brooklyn, NY – Baby's All Right
07/17 – Carolina Beach, NC – Ocean Grill and Tiki Bar
07/19 – Knoxville, TN – Pilot Light
07/20 – Louisville, KY – Zanzibar
07/21 – Indianapolis, IN – The Hi Fi
07/22 – Grand Rapids, MI – The Tip Top
07/23 – Ferndale, MI – The Magic Bag
Bio:
The modern age sends love letterson yellowed, empty pages. It's got telepathic advice gurus in its timeline and deep sea creatures washing up on its shores. It's got plugs, buttons, and illusions, and a grocery store whose aisles correspond to Dante's infernal circles, plus a nebulous sense of ephemeral weirdness. It's got Moods Baby Moods and the existential angst it yields has Sonny Smith in a funk, but he's turned it into funk.
On previous records, the Sunsets have plundered a wide spectrum of musical appropriation (garage-rock, forgotten AM radio fodder, Modern Lovers, late-era Clash, Doo-Wop, and the Velvet Underground, to name a few.) Mood Baby Moods follows suit, and on this outing we find the Sunsets, along with producer Merrill Garbus of tUnE-yArDs, repurposing early '80s funk and new wave with rap beats and collages from both sides of the ocean (be it Niles Rogers, Jah Wobble, The Gap Band, Orange Juice, Trans-era Neil Young or The Tom Tom Club.) These are songs that juxtapose the haze of today with a vibrant and colorful explosion of sounds and 180 degree turns.
Sonny's gift for vivid storytelling is no secret. His last album with the Sunsets, Talent Night at the Ashram, was peopled by characters he'd created for scripts that never saw the light of day. He greeted 2016 with a solo LP (Sees All Knows All) that involved no singing at all – a winding tale of one musician's quest to find himself set to music. Moods Baby Moods is no less inventive and arguably more musically sophisticated than Smith's previous records.
"Death Cream Part 2" picks up a comic book tale started on 2009's Tomorrow Is Alright, tracing that titular tube of heinous goop back to a grocery store/hell. "Modern Age" transfers from a party to a string quartet, with elements of dub, while the narrator comes to grips with meaninglessness – 'modern age/nothing to say.' "Well but Strangely Hung Men" bridges a gap between Franz Kafka, Sigmund Freud and Richard Brautigan over a driving post disco beat.
The real life cast supporting Moods Baby Moods is fittingly rife with outsider talent. Garbus' voice can be heard throughout. Shayde Sartin's bass, Edmund Xavier's drum machine beats and Smiths guitar form the foundations, and regular Tahlia Harbour continues her back and forth banter with Smith. Cold Beat's Hannah Lew brings a Kleenex/Young Marble Giants flavor to the songs. Shannon Shaw and Jibz Cameron drop by for a skit, and Kaznary Mutoh of Tokyo's Boys Age lends guitars and garbles the outro of "Modern Age."
Lyrically, Smith is playing with the grand themes of today. In his search for purpose in the cruel realities of the modern age, he's trying to make sense out of chaos and suffering, and to find a way to live and be real. This is not an easy task in a time of synthetic feelings ("Moods"), computer created confusion ("Modern Age"), climate change ("Dead Meat on the Beach"), civil rights abuse ("White Cops on Trial"), and the uneasy feeling of numbness in our chaotic world ("Check Out").
But in the final moments of Moods Baby Moods, Sonny delivers a line that not only speaks truth to his philosophy as played out across his career, but to what it means to be human in any era, regardless of our relationships with technology, spirituality, authority, or art: "I'm full of love, and shit all the time."
Sonny and The Sunsets
Moods Baby Moods
(Polyvinyl)
May 27, 2016
Pre-order here
Track list:
1. Death Cream part 2 "Watch Out for the Cream"
2. Moods
3. Modern Age
4. Well But Strangely Hung Man
5. Nightmares
6. Reject of the Lowest Planet
7. White Cops on Trial
8. Check Out
9. Needs
10. My Little Death
11. Dead Meat on the Beach
12. The Hospital Grounds at Night
SONNY & THE SUNSETS LINKS: