STREAM: "Big Song" –
VIDEO: Trailer Video –
YouTube
[media][/media]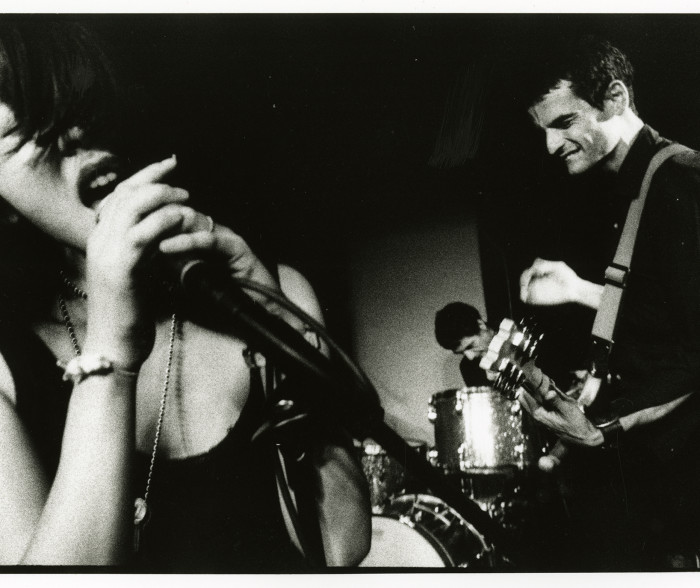 Teeming with the energy and grit of pre-Giuliani Manhattan, Blonde Redhead's long out-of-print early recordings have finally crawled their way out of the '90s basement thanks to Numero Group who will issue a 4LP / 2CD set on Sept. 30. Weighing in at 37 tracks, Masculin Féminin compiles the band's first two albums for Steve Shelley's Smells Like Records (self-titled and La Mia Via Violenta), their period singles, extant demos, and radio performances across four LPs or two CDs. Dozens of previously unpublished photographs illustrate two lengthy essays on this essential New York band's formative years.
.
This is the latest installment in Numero Group's 200 Line series which has also included releases from Unwound, Bedhead, Codeine, White Zombie and The Scientists.
 .
"These songs combine a raw need, a ready access to neediness, with seemingly incongruous cinematic changes reminiscent of '60s Italian pop music and movie scores. They switch between emotional grandeur and eye scratching immediacy."     -Arto Lindsay
06/16 – Brooklyn, NY – Red Hook Summer Stage
Blonde Redhead
Masculin Féminin
(Numero Group)
Street Date:

Sept. 30, 2016


Pre-order here

.

Track List:

.
Masculin 
1. I Don't Want U
2. Sciuri Sciura
3. Astro Boy
4. Without Feathers
5. Snippet
6. Mama Cita
7. Swing Pool
8. Girl Boy
LP 2 – 7″s and Bonus Material
.
9. Amescream
10. Big Song
11. Inside You
12. Vague
13. Jet Star
14. This Is The Number Of Times I Said I Will But Didn't (4 Track Demo)
15. Instrumental (Live at Snacktime)
16. Slogan Attempt
17. Swing Pool Instrumental (Live at Snacktime)
18. Woody (4 Track Demo)
.
LP 1 –
La Mia Vita Violenta
.
19. (I Am Taking Out My Eurotrash) I Still Get Rocks Off
20. Violent Life
21. U.F.O.
22. I Am There While You Choke On Me
23. Harmony
24. Down Under
25. Bean
26. Young Neil
27. 10 Feet High
LP 2 – 7″s and Bonus Material
.
29. Flying Douglas
30. Harmony (7″ Version)
31. 10 Feet High (7″ Version)
32. Valentine
33. Not Too Late
34. (I Am Taking Out My Eurotrash) I Still Get Rocks Off (KCRW Session)
35. Pier Paolo (KCRW Session)
36. Country Song (La Mia Vita Violenta Outtake)
37. It Was All So Sudden (4 Track Demo)
RELATED LINKS: