VIDEO: "Another Chore" –
Brooklyn Vegan / YouTube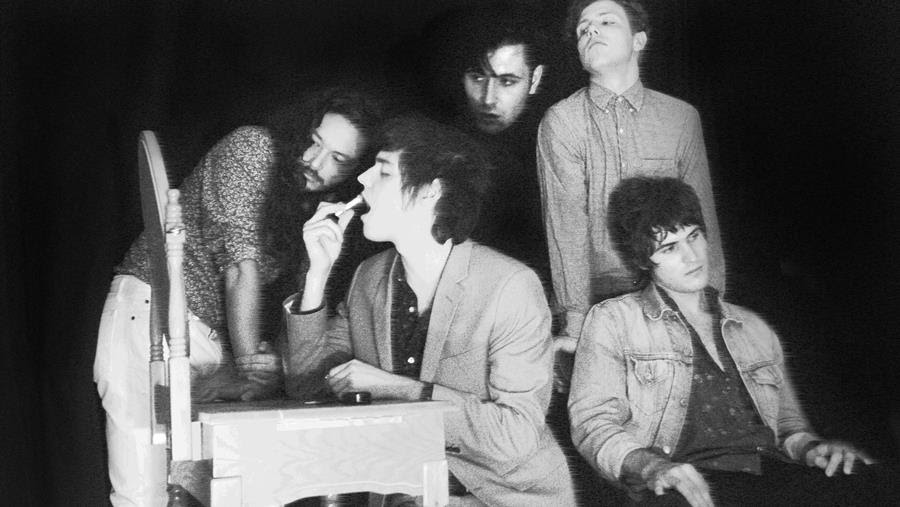 photo by Jordan Reyes
Athens, GA's Muuy Biien announce their third LP, Age of Uncertainty, which will be released on Oct. 28, 2016 on the Autumn Tone label. Today the band shares the first track & video from the album, "Another Chore," via Brooklyn Vegan. The track is the first look at a new sound for the band, which takes more cues from bands like Suicide and The Birthday Party. We should also note the video is slightly NSFW.
Here's a quote from the band about "Another Chore":
"Another chore is a song about annoying, unambitious people. Robbie and I (Joshua) tracked the song at our house in Athens in less than an hour with no preconceptions, or prospects for that matter. We chose to shoot the video while on tour in New York City with our friend Jorge Torres-Torres. This allowed us to approach the video in a stream of conscious fashion, similar to the song. Saxophones." -Joshua Evans, Muuy Biien
Bio:
Muuy Biien is a band from Athens Georgia. Originally an ambient project of singer Joshua Evans, the inclusion of a full band has allowed the project to evolve into an intense and raucous live act. In four years, they have released 2 albums and 3 EPs containing punk, post-punk, darkwave, ambient and krautrock influences. On October 28th 2016, the band will release their first true studio album (and third album overall) on Autumn Tone. The new full length, recorded by David Barbe at Chase Park Transduction, finds the band continuing to experiment with new sounds and territories. Muuy Biien are poised to spend most of 2016 and 2017 on the road supporting the record.
TOUR DATES:
08/22 – Omaha, NE – Slowdown Jr.
08/23 – Chicago, IL – Empty Bottle
08/25 – Columbus, OH – Ace of Cups
08/26 – Toronto, ON – The Drake
08/27 – Portsmouth, NH – Birdseye Lounge
08/28 – Allston, MA – Great Scott
08/29 – Washington DC – DC9
08/30 – Philadelphia, PA – Boot and Saddle
09/01 – NYC – Rough Trade
09/02 – Richmond, VA – Hardywood Park Craft Brewery
09/03 – Charlotte, NC – Snug Harbor
Muuy Biien
Age of Uncertainty
[Autumn Tone] Release Date: Oct. 28, 2016
    1 Moral Compass
2 Sike Song
3 The Clocks
4 Bitter Blessings
5 Another Chore
6 Mara
7 The Sound Of A Trenchcoat
8 In The Pits
9 Skeleton Tissue
10 Robbed
11 If It Pleased You
12 Age Of Uncertainty
MUUY BIIEN LINKS: