STREAM: "I Can't Die"
SoundCloud / The FADER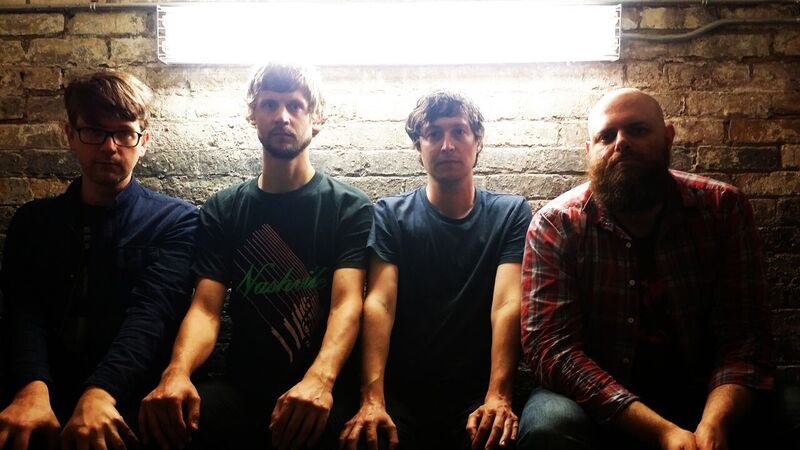 (Photo Credit:  Photo by Bella Gwendolyn Giovannini – click image for high-res version)
FRESH SNOW, an acclaimed instrumental kraut-noise-psych rock quartet, are back with their second full-length album, 'ONE'. Recorded with Graham Walsh (Holy F***, METZ, Preoccupations) in a rural Ontario barn, 'ONE' arrives less than a year after their 2015 EP 'WON', via Hand Drawn Dracula (Beliefs, Doomsquad, Etiquette) on September 9th, 2016. Stream the album's first single "I Can't Die" over at The FADER.
 With 'ONE', Fresh Snow pushes their own boundaries further than ever, creating something more confrontational, yet more accessible, than anything they've done before. The band describes 'ONE' as an album that is both structured and instinctual, made without ego or fear of alienating its listeners. Noise and texture is always prevalent, however minimalism is newly explored in places throughout the album, alongside electronic treatments, and English / French vocals.
 After a split 7″ with SubPop artists METZ (2012), Fresh Snow earned critical acclaim with their 2013 debut album, 'I', and landed on the cover of NOW Magazine, as well as being listed for the esteemed Polaris Music Prize, and making numerous year end best of lists. Brooklyn Vegan described Fresh Snow's music as "mutant, motorik psych," which the Toronto Star's Ben Rayner also called "transcendental" and "overwhelming in the best sense possible."
 Fresh Snow's inventive live shows – performances within pods or around projection screens, leading audiences from one room to another mid-show – are legend to those already in-the-know. They've performed alongside groups as diverse as Atlas Sound, Tim Hecker, The Pop Group and Ratking, as well as forming a one-off blisteringly loud band with METZ (FrETZ).
 2015 saw Fresh Snow release the EP 'WON', which included vocals by F****d Up's Damian Abraham, as well as the song "Proper Burial (feat. Carmen Elle of DIANA)" which was premiered on Stereogum, as well as gaining positive coverage on Noisey/ VICE and "song of the day" on the UK's Line of Best Fit. A hypnotic video for "King Twink Rides Again" premiered via Los Angeles magazine Flood, and Marvin in Mexico. "Don't F*** A Gift Horse In The Mouth" (feat. Damian Abraham) was picked as a song of the week on numerous international sites, including Consequence of Sound, Vulture, Testspiel and Chart Attack. The EP's success was rounded out by the venerable Australian music TV show RAGE picking up "Don't F*** A Gift Horse In The Mouth" for video play throughout Australia, on the national ABC network.
 As Fresh Snow continue their journey through the ROYGBIV colour wheel – 'I' is red; 'WON' is orange; and 'ONE' is a yellow cover, the distinctive sonic elements that are the band's trademarks continue to evolve, strengthen and feedback. ONE is filled with dissonance, stillness, intrigue and molten noise, as Fresh Snow continue to look for the beauty that is found in extremes.
Tour Dates:
Sept 10 Hamilton, ON – Supercrawl Festival
Sept 22 Toronto, ON – Ontario Place – Small World Fest 
Fresh Snow
ONE
[Hand Drawn Dracula] Release Date: September 9, 2016
1. Olinda
2. January Skies
3. Mass Graves/ Dance Caves
4. Eat Me In St Louis
5. I Can't Die
6. Three-Way Mirror
7. I Am Smitten With Your Wrath
8. Anything Minutes
9. Flat White
FRESH SNOW LINKS:
Website: http://freshsnowmusic.com
Facebook: https://www.facebook.com/freshsnowband
Twitter: https://twitter.com/FreshSnowBand
Label: http://handdrawndracula.com