Future States announce debut album, share "Lulu" via Stereogum
– 'Casual Listener' is out October 28 via Golden Brown
STREAM: "Lulu"
SoundCloud / Stereogum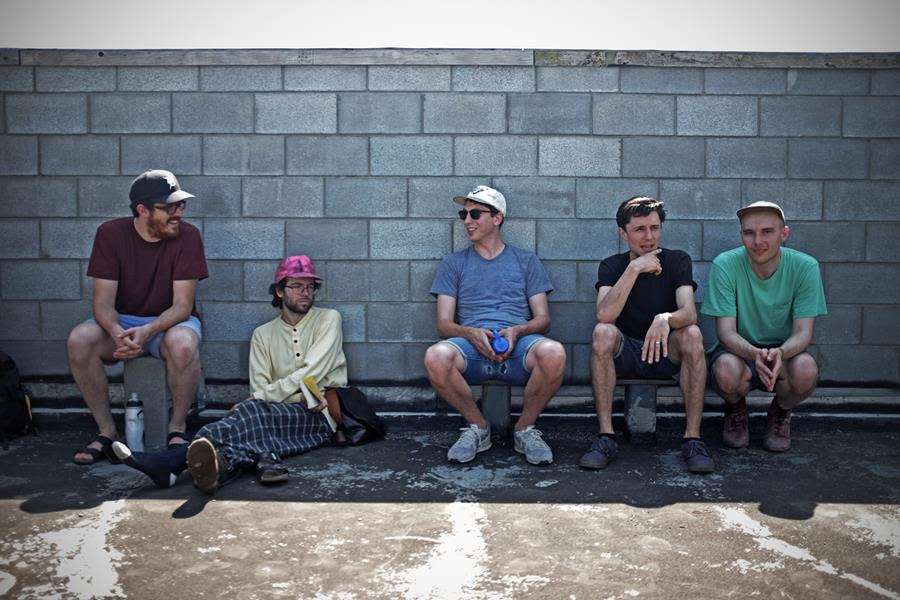 (Photo Credit: Annie Charlebois – click image for high-res version)
Montreal/Ottawa psych pop outfit Future States announce their debut album 'Casual Listener,' out October 28 via Portland, OR label Golden Brown. Stream the album's first single "Lulu" over at Stereogum and on SoundCloud.
Future States consists of Chuck Bronson (Guitar, Vocals), Brodie Conley (Guitar, BV), Daniel Gélinas (Drums, BV), Nicolas Hyatt (Keys, BV) and David Lacalamita (Bass, BV). Their unique sound emanates directly from their collaborative ethos. The band draw from varied musical backgrounds and educations—experimental composition, psych/prog, jazz, indie rock, and folk—working diligently together until each song becomes more than the sum of its individual parts. This process is aided by Gélinas, who acts as the band's in-house recording engineer. The result is a tapestry of musical influences, put together like a puzzle that yields a satisfying whole.
Recorded over a two week period at a church in Northern Ontario, Casual Listener, their first full length LP, sees Future States charting a path between two poles of their musical interest — pop songcraft and improvisation. The arrangements for Apostolic, Lulu, Wish You Well and Violencia highlight the former, with carefully orchestrated melodic and rhythmic ideas, and meticulous attention paid to instrumental layers. In contrast,You Got It All Wrong, Regress to the Mean and the album's multiple interlude tracks showcase how the musical relationships within the band play out in real-time, with loose arrangements made possible by the freedom to improvise together and record late into the night in the church-turned-studio. The quiet album closer Sudo Su pairs Bronson's abstract lyrics with delicate vocal harmonies, eerie church organ, an ethereal ringing bell, and pizzicato cello performed by Christine Bronson, sampled and carefully re-arranged by Hyatt into Norman McLaren-esque percussive pops. Together, the songs on Casual Listener are testament to the venn-diagram that is Future States' music—experimentation that feeds into polished pop.
Tour Dates:
10/13 Toronto, ON @ The Horseshoe Tavern w/Run Coyote, Glass Hand and Jiants
10/14 Guelph, ON @ The Cornerstone – w/Littlefolk and Iansucks
10/15 Ottawa, ON @ Bar Robo w/Run Coyote
10/16 Montreal, QC @ Casa del Popolo w/Run Coyote and Pallice
11/05 Fredericton, NB @ Capital Complex w/ Chairs and David in the Dark
11/06 Charlottetown, PEI @ Baba's Lounge w/Chairs and Sorrey
11/10 Halifax, NS @ Gus' Pub w/ Chairs
11/11 Sackville, NB @ Thunder & Lightning w/ Chairs and Jon McKiel
11/12 Moncton , NB @ Bar Le Coude w/ Chairs
(click artwork for high res)
Future States
Casual Listener
[Golden Brown]
Street Date: October 28, 2016
1. Forward
2. Apostolic
3. Lulu
4. You Got It All Wrong
5. Violencia
6. Wish You Well
7. Regress To The Mean
8. FF
9. Sudo Su