Imaginary People shares new single "Fresh Kill" via Clash
STREAM: "Fresh Kill" –
SoundCloud / Clash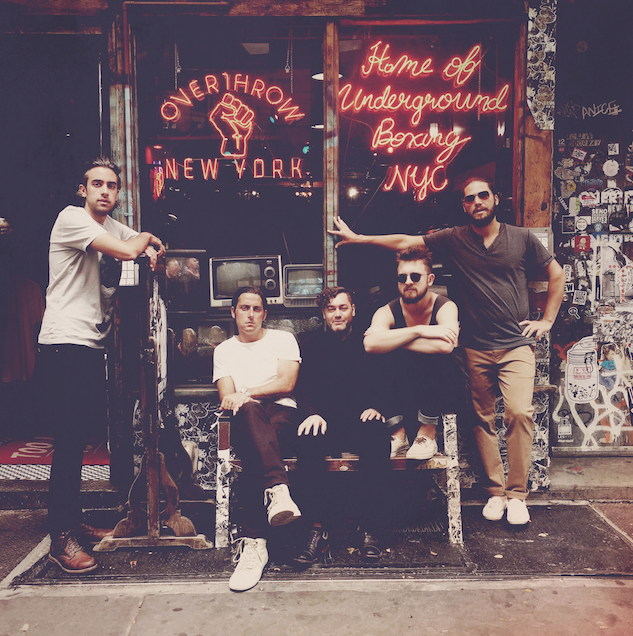 Photo by Rina Khadivi
Following 2014's critically acclaimed opening volley EP, composed of espionage-themed singles, and their 2015 politically tinged full-length debut Dead Letterbox,  New York's Imaginary People return with their second full-length release, entitled October Alice, due in April 2017. The album was again produced by Kevin McMahon (Swans, Titus Andronicus, Real Estate), reprising his role from their debut LP.
The band swings for the fences on their sophomore LP, recorded in a barn in upstate NY, via a grittier approach, with an eerie, reverb-laden wall of sound abundant throughout, cannily crafted via the use of a second drum kit inside a silo. It mirrors the morbid subject manner of the album, easily their most disarmingly personal material to date.
Mournful yet anthemic, the album resonates with a simmering intensity. Dark visions abound, of horrific events that can't be undone—yet the sorrow is sublimated into an unsurpassable catharsis. It's evident on the likes of the smoldering "Snapshot," the racing-pulse rave-up "Seven Days," and the cacophonous serpentine groove of "Fresh Kill." But this isn't an album of easily digestible singles. It's best swallowed whole, as a piece, one that candidly encompasses anguish, the bleakness of humanity, but ultimately a sense of hope that music in some small way can heal the deepest of emotional wounds.
Imaginary People is Dylan Von Wagner (vocals), Mark Roth (guitar), Justin Repasky (keys), Kolby Wade (drums) and Bryan Percivall (bass).
TOUR DATES:
03/22 – New York, NY – Berlin
What the press has said in the past:
"Von Wagner is a commanding presence, expressive and elegantly bombastic." – Pitchfork
"the music is mostly brash,often dark, with shimmering yet punch guitars and thundering drums." -NPR
" Despite dealing in a brand of post-punk often synonymous with mystery, Imaginary People are happy to bare all." -Drowned in Sound
"Imaginary People's lead vocalist, Dylan Von Wagner, has the kind of voice you don't hear much anymore: there's a vibrato to it, and an occasional yelp, and a good-natured snarl, all of which might put the listener in mind of Elvis or Jerry Lee Lewis." – Interview
"…as much of a throwback as it is a dance party-starter." – NYLON
"'She Is' is a sensational, unrelenting piece of guitar music… this is crisp, pulse-quickening fare." – Clash

Imaginary People
October Alice
(Five Five Diamonds)
Street Date: April 28, 2017
Track List:
1.Snapshot
2.Spectacles
3.Mr hesitance
4.Seven days
5.The Pelican theme
6.Long for the rue
7.Half step
8.Whisper to stop
9.Fresh kill
10.Magdalena
11.Human race