Other Music doc announces Q&A today w/ OM founders (4pm EST) & shares new video clip
Watch the new video clip here
Check out the Kickstarter page & Q&A here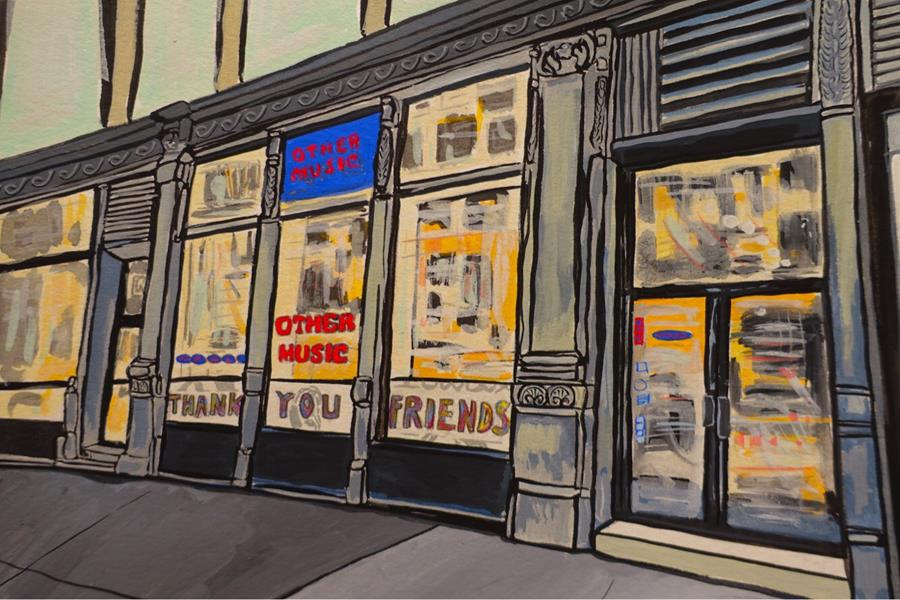 Today the filmmakers behind the Other Music documentary have shared a short video filmed after the store closed, while the staff was cleaning out the space. The film's directors Puloma Basu and Rob Hatch-Miller spent over six weeks shooting in Other Music before it closed, leading up to the Other Music Forever farewell concert at the Bowery Ballroom (with artists including Yo La Tengo, Yoko Ono, Bill Callahan, Sharon Van Etten, Frankie Cosmos and Julianna Barwick) which was also filmed for the documentary.
The Other Music documentary launched a Kickstarter campaign three weeks ago, and has one week left to make its goal. The campaign has brought in a huge amount of support from over 500 backers, illustrating how much this small shop across the street from Tower Records in New York's East Village impacted music fans all over the world. The trailer for the documentary is available to watch on the Kickstarter page, and features interviews with James Chance, Benicio Del Toro and members of the Magnetic Fields, Vampire Weekend, Interpol and the Yeah Yeah Yeahs. During the campaign the filmmakers have shared other short video clips from interviews with Jason Schwartzman and Panda Bear (Animal Collective).
Today — Tuesday, July 18th — at 4pm Eastern / 1pm Pacific, the film's directors will be hosting a live interactive Q&A on Kickstarter with two of the store's founders, Josh Madell and Chris Vanderloo. Viewers can submit questions in advance and can also subscribe and get an alert to remind them when the broadcast begins.
About The Film
In the summer of 2016, New York City lost a beloved and influential hub of independent music culture. Other Music–located on East 4th Street between Broadway and Lafayette in the heart of Manhattan's East Village neighborhood–was more than just a store that sold CDs, records, tapes and magazines. It was a place where bands were formed, record labels were born and careers were launched. And it was THE place where a generation of New Yorkers at the dawn of the Internet age went to discover groundbreaking music by artists who would go on to become household names and underground icons: Animal Collective, the Yeah Yeah Yeahs, Vampire Weekend, the Strokes, Interpol, TV On The Radio, Anohni (formerly Antony and the Johnsons), William Basinski, and countless others. This documentary will chronicle the 20 year history and legacy of Other Music, and explore how the spirit of independent record stores can be preserved as physical retail spaces for music continue to disappear. Rewards available for Kickstarterbackers include a download of an album-length "video mixtape" of live in-store performances filmed at Other Music between 1996 and 2004.