Pocket Rockets, D. Wing, and Henry Nowhere will perform at Dangerbird's MICRODOSE event 8/16 in Los Angeles at the Hi Hat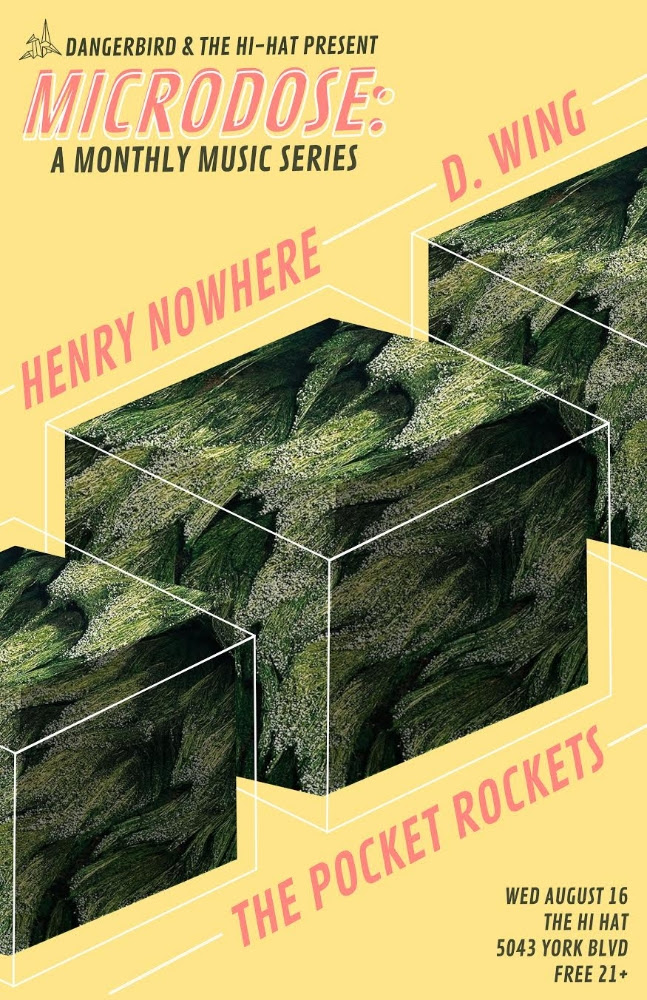 East L.A.'s The Pocket Rockets provide you with the raw, sweaty post-punk that is crucial to daily life in Los Angeles. Lead by Frontman Ralph Blanco, equal part cool guy and broken hearted loner. Fair warning ladies!
 Listen to The Pocket Rocket's track "Situations" here
 D. Wing – Frontiersman of Space RnB. Futuristic sex music. This tech noir idea of love is characteristic for D.Wing, whose unorthodox take on R&B has him experimenting with less-than-terrestrial production performed with a courageous sincerity that draws out the rawest of earthling emotions. 
Listen to D. Wing's track "Buried Deep Down" here
 Henry Nowhere makes music for the heart's soft spots, and the state of California's scenic ones, songs that feel like old photographs tucked in the corner of a mirror, faded by the sun and the passage of time. 
 MICRODOSE is a monthly single release and live event series celebrating new music from our neighborhood (LA's Eastside) and beyond. This platform will serve as a launchpad for up-and-coming artists, uniting and expanding our artistic community.  Monthly singles will include an A-side and B-side, and each artist will perform live at Dangerbird's Silver Lake based HQ/event space.
"A good old fashioned keg party for the artist, their community and the neighborhood as a whole.
 Keep it simple. Make it fun. Do it again!" – Aaron Espinoza (A&R)
"Keeping the heart in Silver Lake, one dose at a time" – Peter Walker (Label Owner)