Today, LA native Alex Bloom shares the second music video from his upcoming album Blue Room.  Click here to watch "One More Shot" shot by Jose Omar (Justin Bieber's Purpose: The Movement).  Blue Room will be released on December 8th.  "One More Shot" was produced in partnership with izo.
During his senior year of USC Thorton School of Music, singer, songwriter, and multi-instrumentalist Alex Bloom decided to make a record.
Although he may be a 21st century artist, he naturally approaches music from a perspective honed by years immersed in classics from the flower power heyday. Holing up in Los Angeles's New Monkey—the studio that once belonged to Elliott Smith—he emphasized a "live" approach and found the sweet spot between sixties-style psychedelic pop bliss, off-kilter instrumentation, and modern indie style. A breath of fresh air amongst today's digitized landscape.
"The production of these songs is my interpretation of some of my greatest inspirations," he affirms. "The Beatles and Beach Boys, in particular, influenced my production choices heavily. It's my perspective on that style."  Yet, it taps into a vibrant energy readily welcomed in 2017, nonetheless.
Upon the eve of his 2016 college graduation, he and a handful of friends from college assembled Blue Room based on a transformative and all too relatable experience…
"It's mostly about a breakup I went through," he admits. "It was the first time that I'd ever been broken up with in my life.  Through communicating these emotions via song, I was trying to understand where my head was at during that period."
The Blue Room album release show will be at Hotel Cafe on Wednesday, Dec 6.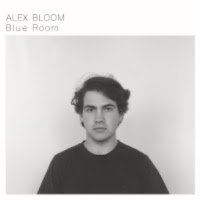 (click artwork for high res)
Alex Bloom
Blue Room
[Alex Bloom]
Street Date: December 8, 2017
1. Eyes In the Back of Her Head
2. I Don't Know You Anymore
3. Change your Mind
4. One More Shot
5. One For Me
6. Sunrise
7. It's Alright
8. Something