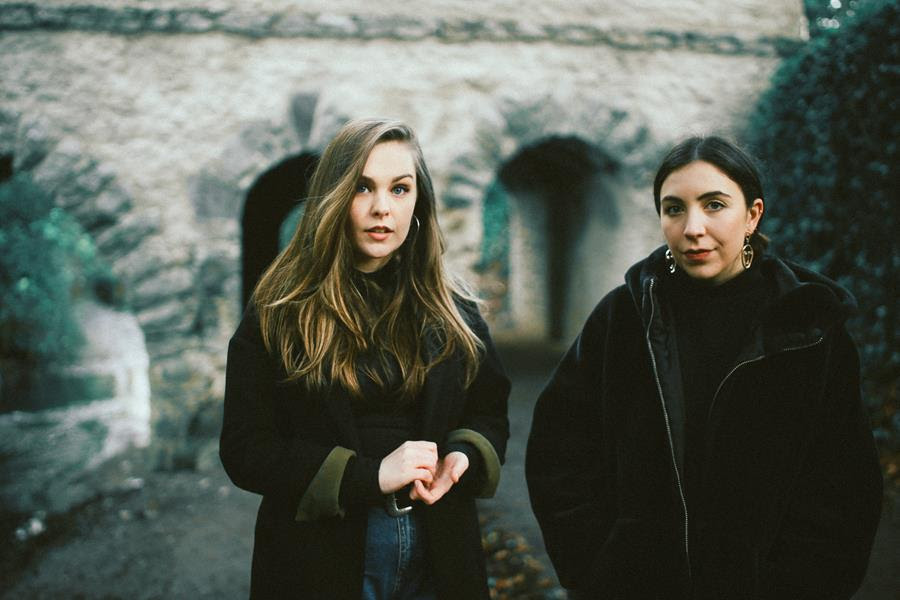 "It's easy to get lost in the minimal, chasmic, but beautifully arranged soundscapes" – Stereogum
"Favorite Discovery at SXSW 2018" -NPR
"Not so much haunted as delicately possessed" – The Guardian
Saint Sister, the duo from the North of Ireland, are set to release their debut album, Shape of Silence on October 5th. Next week they support Hozier at his sold out London show at Koko on September 11 before embarking on a 3-week headline tour of North America, starting in Washington DC on September 21.
Today, they share a new remix from James Vincent McMorrow. Saint Sister's recent single "You Never Call," described by Clash Magazine as having an "astute pop touch," is reworked by McMorrow into a lo-fi earworm, finding new sonic depths as the track progresses.
McMorrow is one of the best known and critically acclaimed Irish artists of the last decade. His earlier work was rooted in the Irish singer songwriter tradition, but on recent records he has embraced elements of electronica and R&B, particularly on the 2016 album We Move.
Saint Sister have made a similar journey themselves, their early work was built around the interplay of their intricate vocal harmonies against the backdrop of the Celtic harp. However, on recent singles "Twin Peaks" and "You Never Call" they have expanded their palette, adding synthesizers and drum machine to create electronica-infused pop.
The band are long time fans of McMorrow, "Morgan made a playlist for our first long drive together in 2014 and a lot of it was made up of songs from Post Tropical. Music we listened to around that time will always hold a special part in our hearts as we were just getting to know each other then. We developed a shared soundtrack when we started writing music together and James Vincent McMorrow was a big part of that. It felt like a real shot in the
dark reaching out to James about the remix but we were so honored when he said yes, we're so excited about what he's made."
This remix also holds significance for McMorrow who says "I've started a lot of remixes for people but I've never been able to finish them, I've never been able to find a path through someone else's song that I could hear and turn into something new, they always ended up sounding like just another generic remix…….Guess I was just waiting for the right song."
Gemma Doherty and Morgan MacIntyre (Saint Sister) released their first EP Madrid in 2015, it was a breakout success. 2 million streams on Spotify in the first year as well as daytime playlisting on BBC radio 1. This propelled them to a European tour with Lisa Hannigan and a single via Communion Singles Club. This year they embark on a 50 date headline world tour across North America, Australia, Europe, the UK and Ireland to promote their debut album.
NORTH AMERICAN TOUR DATES:
09/21 Washington DC  – DC9
09/22 New York, NY – Baby's All Right
09/25 Boston, MA – Middle East
09/26 Montreal, PQ – Petit Campus
09/27 Toronto, ON – Drake Hotel
09/29 Chicago, IL – Schuba's
10/02 Seattle, WA – Barboza
10/03 Portland, OR – Mississippi Studios
10/05 San Francisco, CA – Cafe Du Nord
10/06 Los Angeles, CA – Bootleg