Silkworm's long out-of-print first album In The West is getting the deluxe reissue treatment via Comedy Minus One; This year marks In The West's 25th anniversary
Hear one rare track and one album track here
"Authentic yet often ineffable greatness that would define Silkworm's next 11 years of activity, the reissue of In The West is a grand corrective gesture with no expiration date."– Andrew Earles
This definitive reissue of Silkworm's second album In the West (cmo038) marks its first appearance on vinyl.
It has been remixed from the original 2″ tape at Electrical Audio in Chicago with Steve Albini, who also engineered the original recording in 1993.
It was remastered with Matthew Barnhart at Chicago Mastering Service.
The revamped cover art is courtesy of longtime fellow traveler Mike Hoffman, Jr. Mike repurposed some elements from the original art by Adrian VanEgmond and otherwise operated in the spirit of the original packaging.
Everything visual was put together as usual by the band and David Babbitt.
Limited to 1,500 copies worldwide.
In addition to the album In The West, supplemental material for this release includes:
-A full-color insert with new liner notes by Silkworm's Tim Midyett.
-Single-only tracks "Incanduce California" and "In The Bleak Midwinter" plus a live version of The Dream Syndicate's "Halloween" recorded at Chicago's Lounge Ax in 1994 join the full album on the package's enclosed compact disc.
-Six previously unheard renditions of songs from In The West recorded direct to DAT in 1991 at Avast! Recording Company in Seattle. Download only.
-Six previously unheard live recordings of songs from In The West provided by Tim Cook. Download only.
-A full Silkworm quartet set from March 1993, recorded at Lounge Ax and made up almost entirely of songs off In The West. Download only.
In all, that's over 2.5 hours of music!
Pre-orders for In The West include the option to pair with a re-press of Silkworm's third album Libertine as a fellow 2×12" + CD (cmo019) and/or a distressed SKWM t-shirt at a discount. Libertine and this shirt have been unavailable since 2014.
Both In The West and Libertine were originally released in 1994, and each celebrate a 25th anniversary in 2019.
Please note: This is a PREORDER, with a planned release date later in 2019 – conditional on no issues with test pressings or other parts of the intricate, fragile production chain. By preordering this title you're helping fund what is easily the most expensive CMO release to date. For that you have our thanks. Your order will ship in advance of the release date, but do not expect your package for several months. Updates on In The West will be provided as frequently as possible on our web site and social media pages.
Pre-order In The West ($25 + shipping) HERE.
Pre-order Libertine ($25 + shipping) HERE.
Pre-order a Silkworm t-shirt ($20 + shipping) HERE.
Save $10 on a bundle of all three items by using the discount code "SKWM" at checkout.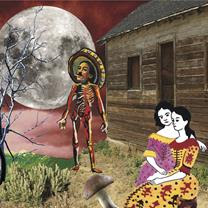 Silkworm
IN THE WEST 2×12″/ CD TRACKS
(Comedy Minus One)
[Click here to pre-order]
Track List:
1. Garden City Blues
2. Dust My Broom
3. Into The Woods
4. Punch Drunk Five
5. Raised By Tigers
6. Incanduce
7. Enough Is Enough
8. Parsons
9. Dremate
10. Pilot
CD ONLY
11. In The Bleak Midwinter (Split single with Engine Kid)
12. Incanduce California (Into The Woods 45 B-side)
13. Halloween (Live at Lounge Ax)
DIGITAL DOWNLOAD ONLY
14. Dremate (Avast! Recording Co.)
15. Dust My Broom (Avast! Recording Co.)
16. Dust My Broom II (Avast! Recording Co.)
17. Incanduce (Avast! Recording Co.)
18. Incanduce II (Avast! Recording Co.)
19. Into The Woods (Avast! Recording Co.)
20. Garden City Blues (live)
21. Incanduce (live)
22. Pilot (live)
23. Dust My Broom (live)
24. Punch Drunk Five (live)
25. Into The Woods (live)
26. Live at Lounge Ax – March 20, 1993
Anyone who has ever been in a band knows that they run their course. Typically.
Early days are fed by a kind of fever to create. Make noise. Explore sound, space, your fuckin' feelings. Whatever.
But fevers burn out, and when they do, it's unlikely every individual in a group exits whatever collective mania had taken hold at them in the same way, at the same time.
In 1994, Silkworm had been in Seattle for four long years. Longer than a lot of bands stay together period, and Andy, Joel, and I had played together for many years before even coming to Seattle.
We'd eaten a lot of shit.
By and large, the greater Seattle music scene had no use for us. Not that we were so bizarre, but we weren't garage, grunge, or punk. We were too loud. Hard to book, hard to get, hard to sign.
Did anyone want to punch that ticket? Yes, in fact. Some did! I've often said (only when asked, mind you) that Silkworm didn't have limited appeal as much as we had a limited audience. Within that audience…more or less unlimited appeal. Rabid fans. Which, as insular as we were, was nevertheless a source of great sustenance to us at a particularly scrubby time.
Anyway. In the West marked a turn. Away from an inspired but still sorta developmental sound into something truly, uniquely ours. Scrabbling, lumbering, yelpy, searing, sorta brutal, and sorta lovely at times. All served more raw than your average ding-dong wants his meat.
We hadn't abdicated from English post-punk, classic rock, or speed metal (a love of Metallica and Voivod still evident in some of the guitar playing). Certainly not from the American experimental rock milieu we were (very loosely) part of at the time and poised (I can see now) to enter some kind of murky but unmistakable presence.
But through all of that, we'd found our own sound.
The tunes are caught up with it, more often than not. I haven't written a better song than "Garden City Blues", which required the full swing of the group to become what it is. Andy's period of drilling, chugging weirdness, on "Dust My Broom" and the classic "Into the Woods", which he more or less abandoned for more expansive, interstellar expression in coming years. Joel sets the mark with a completely realized vision; thick, pile-driving, crushingly beautiful, as heavy as post-punk gets. Wonderful and a privilege to be part of; perhaps unsustainable for too long. When Joel really opens everything up at the end of "Dremate"…I mean, I was there, and that's not the sound of a person ttrying to do anything. That's just someone turning himself inside out. Of course, whether or not it was good for him, exactly…we followed his lead and helped him do it.
Through it all, a young drummer gets his sea legs. Michael had many masterful, album-length performances in our group, as maybe the greatest heavy rock drummer of his era. Certainly the best drummer who couldn't play a double-stroke roll. But here he put it all together for the first time, with all the excitement of a dog who has just figured out how to run.
How we all navigated this turn…together…intact…touring our balls off at a survival level…I guess it owed a lot to the countless hours we spent together. To commitment. To love. To being fucking idiots. I can't even honestly explain to you whywe did it, much less how. I'm sure a lot of our peers feel that way now. But I'm glad it worked out, and I'm glad there's a definitive version of this record for you to hold in your hands today, 25 yrs later, for the first time.
Thanks.
Tim Midyett
Chicago
January 2019