Slumberland Records announces 30th Anniversary show at Union Pool Dec. 14 feat. Peel Dream Magazine, The Natvral, Lake Ruth, Jeanines and Pale Lights (tickets on sale now)
Also check out a new track from Lake Ruth here &
sign up for the SLR30 Singles Subscription Series here
STREAM: Lake Ruth's "Strange Interiors" – 
Brooklyn Vegan / SoundCloud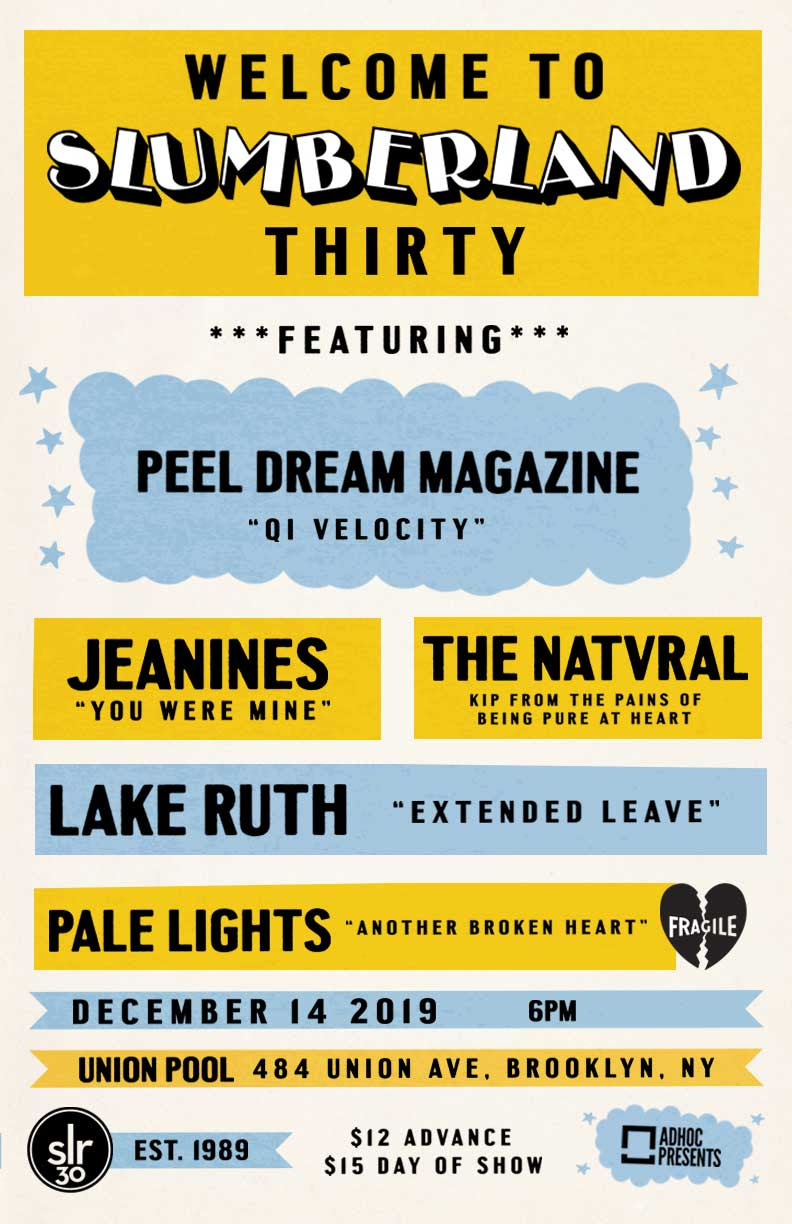 When we started to think about how best to celebrate Slumberland's 30th year we quickly realized that what felt truest to the label's spirit were projects that would emphasize our current roster and other new bands that we love. Slumberland has always been about new music, so putting together our SLR30 Singles Series made perfect sense — 12 singles by 12 great bands, 24 songs gathered onto our favorite physical format, the 7″ single. And now we're happy to announce the first of what will be a several 30th birthday parties, kicking off the festivities in NYC (in conjunction with our friends at Ad Hoc Presents) with a party at Union Pool in Brooklyn on December 14th featuring Peel Dream Magazine, Jeanines, The Natvral, Lake Ruth and Pale Lights. Reunion shows are cool but we're as excited about our current roster as any we've had and wanted to place the emphasis squarely where it belongs – bands making great new music right now. Stay tuned for more info about west coast parties soon!
About the SLR30 Singles Series
If you know much about the history of the label, you know that Slumberland began in 1989 as a 7″ label and was always inspired by the ephemeral and often electric pleasures to be had from the perfect single. Featuring a concentrated taste of what an artist has to offer, the 7″ was traditionally the format of choice for young bands just getting their feet under them, as well as for chart-bound efforts by established bands. Over the last 29 years Slumberland has released over 130 7″s, and even though downloads and streaming and playlisting have stolen a lot of the "you heard it here first" thunder from the vinyl single, we think that there's still something pretty magical about the not-so-humble 7″.
To help celebrate Slumberland's 30th birthday and help folks reconnect with our favorite vinyl format, we have launched the SLR30 Singles Subscription Series, featuring 12 singles to be released over the course of the year, the final entry slated to appear right around Slumberland's birthday in December 2019. The goal is to work with a group of artists not traditionally associated with the label, to showcase bands' best material and, as always, to help get some of the finest music around out there in a tangible format.
Lake Ruth:
Lake Ruth was formed in 2015 by multi-instrumentalist Hewson Chen of The New Lines, drummer Matt Schulz (Holy Fuck, Enon, SAVAK) and vocalist Allison Brice (The Eighteenth Day of May, The Silver Abduction). Their expanded live line-up includes René Dennis (The New Lines), James Canty (The Make-up, Ted Leo & The Pharmacists), and David Mason (Listening Center).
Inspired by 1960's sonic experimentation, baroque psychedelia, library obscurities, vintage pop noir, Giallo soundtracks, kraut and jazz, Lake Ruth creates intriguing and unique music rich with multilayered instrumentation, propulsive rhythms and atmospheric vocals.
Following up two excellent albums and several singles, "Extended Leave" is their latest music and perhaps the sharpest, most incisive example of their deep, thought-provoking pop yet. Mysterious and melodic, both sides of this double-A side single ably demonstrate why Lake Ruth are one of the most interesting bands out there today.