Rone shares stunning "Nouveau Monde" short film shot in Haiti by director Jérôme Clément-Wilz
WATCH: "Nouveau Monde" – 
YouTube
"Nouveau Monde" (New World) is a statement of intent from Rone's new album Room with a View, and the only track on the album where spoken words take the lead. It opens with a discussion led by an astrophysicist-philosopher and a science fiction writer on the need for society to redefine its heroes and mythologies in order to bring about a harmonious and viable future.
What if these new behaviors were to be found in the communion rites of the Haitian carnival? While Jérôme Clément-Wilz, the director of this new official video, has chosen to mute Alain Damasio and Aurélien Barreau, he also seems, in his own way, to present a narrative of this theme where religions, cultures, body movements and facial expressions merge into a feeling of jubilant timelessness.
Words from the director: Jérôme Clément-Wilz  
"What does being together mean today, especially during this time of lockdown? What is being mystic, what is breaking the boundaries between myself and the others? How do we deal with life and death? In this documentary music video, I wanted to depict what communion is about. Not mere regular Christian communion, but rather playful, mad, poetic, syncretic communion.
I visit Haiti at least twice a year to make films, do documentary workshops with the blooming generation or simply meet my friends. When Rone gave me the opportunity to work on this project, the link to the carnival struck me as obvious, especially after seeing "Room with a View," which also deals with collective trance. I would consider this film almost as a tutorial: why aren't we doing this in Europe anymore? Why are we trapped in normality? Even electronic music, which used to be a liberation movement, seems to want to lead us into mere collective hypnosis.
This film is a tribute to madly vivid Haitian culture. Every year the people of Jacmel and artists muster their creativity and skill to create the wide gallery of characters dancing during the carnival. Carnival has always been a time when the people reverse social and moral values. Figures of Haitian history: slave, Christian, Native, Voodoo, animist figures blend together into a big catharsis. Haitian carnival as such is also a political gesture and a social critic.
I'm used to filming alone, without a crew, only with my long-time friend Ossange Samba as a driver along the way. I always try to film organically, blending in with the movements of the protagonists. I use cameras, lenses and colors that give the impression of a timeless document. I edit the film in such a way as to create the feeling of a mystical love dance, alternating dreamlike and violent moments.
I did the post-production during lockdown at Le Lac, a collective creative space in Brussels. With my friends there, over the lockdown weeks, we created some kind of artistic bonding, dressing up, putting together wild theater or musical performances. And I would step out of the group into my room ten hours a day to work on "Nouveau Monde." Working in lockdown was hard: finishing a film is meant to be a time of communion with the artist and the collaborators: we are usually in the same room, polishing together editing, color and sound. I felt a little bit like a telephone switchboard, but we did create a special bound between Brussels, London, Berlin, Paris, Port-au-Prince and Jacmel!
About Rone
Over the course of just a few albums, Rone has established himself as one of the most influential French producers, giving electro an extra dose of soul. He is now giving a new dimension to his career with the creation of the show Room with a View, which is also the name of his fifth album released in April 2020 on the French label InFiné. Invited by the Théâtre du Châtelet for a carte blanche, Rone has worked with the (LA)HORDE collective and the dancers of the Ballet National de Marseille on a multidisciplinary creation with the eponymous title (Théâtre du Châtelet – March 2020). https://www.rone-music.com/ 
About the director: Jérôme Clément-Wilz
Jérôme Clément-Wilz has worked on documentaries, series and music videos as a director and director of photography. His films have been selected and/or awarded in numerous festivals (Rotterdam IFFR, IDFA, Doxa, Clermont-Ferrand, Dok-Leipzig, FIPA, KIFF…). From frontlines to free-parties, from bondage to blooming love, Jérôme has reached out to the core of human intimacy. www.jeromecw.com
About Jacmel Artists – Note from the director Jérôme Clément-Witz
The Jacmel Arts Center is an inclusive, collective movement of artists in town. Their goal is to breathe new energy into the once vibrant arts scene of the city and spread their unique passion for Haitian culture throughout the world. The center is located in the arts district in a historic beachfront building on Rue St. Anne which was severely damaged in the earthquake of 2010.
The Jacmel Arts Center supports over 100 member artists, and over 60 students, all local Jacmel residents, many of whom create the large papier-maché masks and costumes and decorations for Carnival. My friends in Jacmel are proud of this film. But they are in great need: as they have still not recovered from the earthquake and other natural disasters, Covid-19 will deliver a harder blow to them than to anyone else. Numerous associations are active during the Mardi Gras, the biggest of which could be Sant d'A Jakmèl (Jacmel Art Center). You can support them here: https://jacmelartscenter.wordpress.com/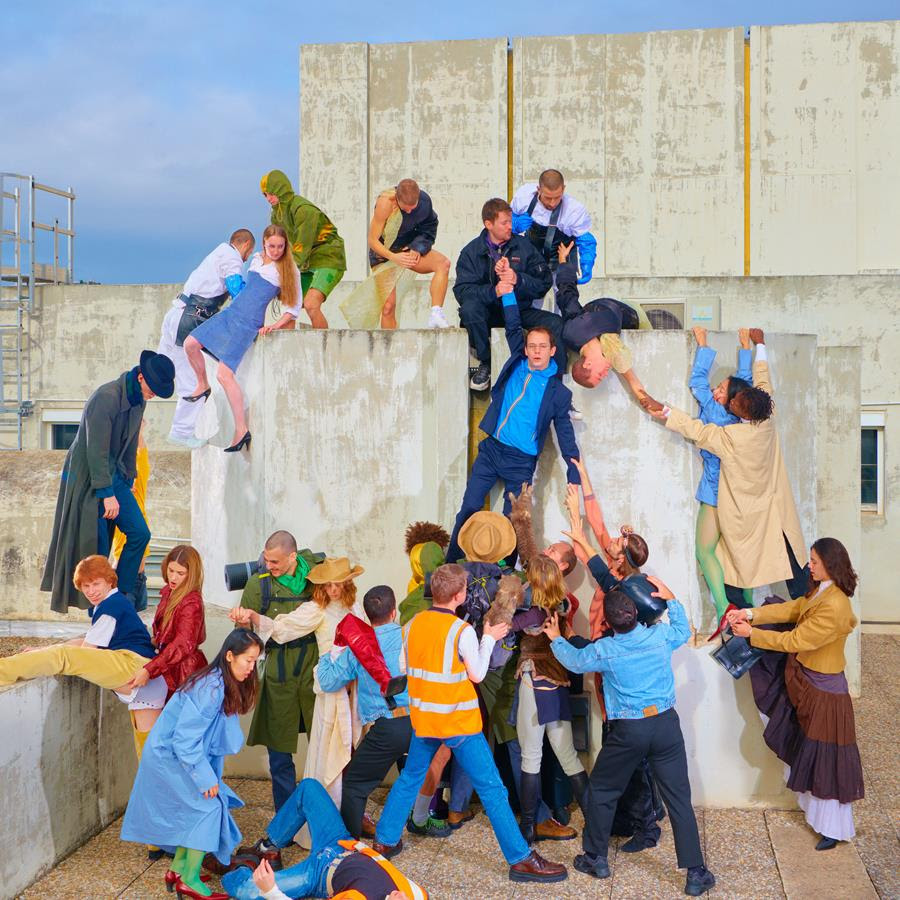 Rone
Room With A View
(Infiné)
[Click here to purchase] Street Date: April 24, 2020
Track List:
1_Lucid Dream – 04:54
2_La Marbrerie – 06:22
3_Sophora Japonica – 02:47
4_Ginkgo Biloba – 03:31
5_Nouveau Monde – 06:45
6_Room With A View – 03:31
7_ Le Crapaud Doré – 03:30
8_Liminal Space – 04:05
09_Human – 06:55
10_Babel – 04:18
11_Esperenza – 04:22
12_Raverie – 07:56
13_Solastalgia – 04:00