Other Music documentary now available on Amazon Prime and other services
"One of the world's greatest record stores gets a fitting eulogy." 
-John DeFore, The Hollywood Reporter
Watch the trailer here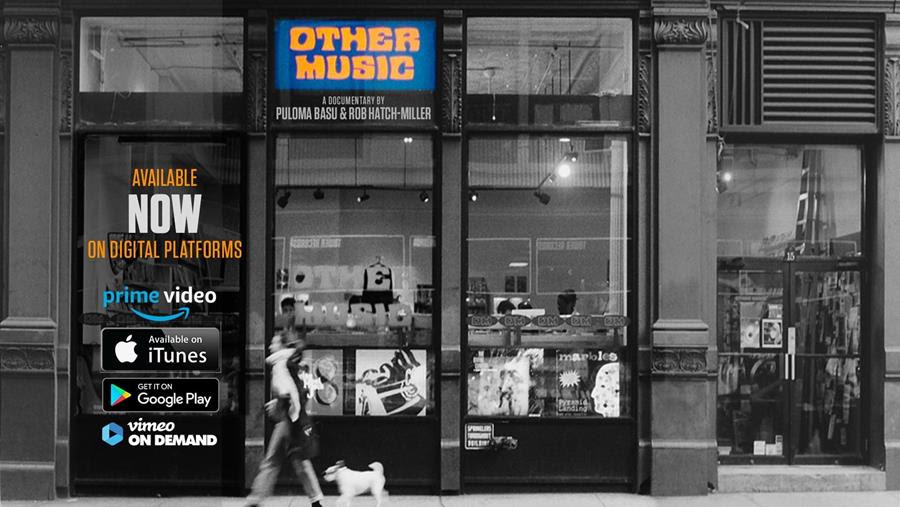 ***SCREENERS AVAILABLE UPON REQUEST***
Brooklyn, New York (August 25, 2020) –  Other Music, a documentary about the legendary NYC record store that closed in 2016 is available today in a wide digital release via Factory 25. The store helped launch the careers of countless indie stars and served as a cultural hub in New York City for 21 years. The film is now available on Amazon Prime, iTunes, Google Play, Kanopy, etc.
The film was slated to have a theatrical run in April which was cancelled just as Covid hit.  The filmmakers made lemonade out of lemons by partnering with over 200 temporarily-shuttered record stores and theaters on a Virtual Cinema release, which raised over 25k dollars for those places in a time when it was desperately needed. Tickets to stream the film were sold via the partners with 50% of the proceeds going to the store or theater in need. The cancelled April theatrical release was planned for the week of Record Store Day, and this wide digital release coincides with the week of Record Store Day's rescheduled 'RSD Drops' event.
The film delves into the iconic New York City record store's influence with appearances by Tunde Adebimpe (TV On the Radio), Jason Schwartzman, Martin Gore (Depeche Mode), Matt Berninger (The National), Janeane Garofalo, Ezra Koenig (Vampire Weekend) and more.
"It's a story about record stores, sure, but moreover it's about the power of community, and the changing face of our cities and towns and culture. The film is a joyous celebration of creativity and the people and places that matter in this life. And it feels all the more relevant today." – Josh Madell, Former Owner of Other Music
Other Music was an influential and uncompromising New York City record store that was vital to the city's early 2000s indie music scene. But when the store is forced to close its doors due to rent increases, the homogenization of urban culture, and the shift from CDs to downloadable and streaming music, a cultural landmark is lost. Through vibrant storytelling, the documentary captures the record store's vital role in the musical and cultural life of the city, and highlights the artists whose careers it helped launch including Vampire Weekend, Animal Collective, Interpol, Yeah Yeah Yeahs, William Basinski, Neutral Milk Hotel, Sharon Van Etten, The Rapture and TV On The Radio.
***THE DIRECTORS & SELECT INTERVIEW SUBJECTS ARE AVAILABLE FOR PRESS***
Other Music
Directed and produced by Puloma Basu and Rob Hatch-Miller
Featuring: Tunde Adebimpe (TV On the Radio), William Basinski (composer), Panda Bear, Avey Tare & Geologist (Animal Collective), Matt Berninger (The National), Stuart Braithwaite (Mogwai), James Chance (The Contortions), Brian Chase (Yeah Yeah Yeahs), Benicio Del Toro (actor), Janeane Garofalo (comedian), Martin Gore (Depeche Mode), Daniel Kessler (Interpol), Ezra Koenig (Vampire Weekend), Mac McCaughan (Superchunk), Stephin Merritt (Magnetic Fields), Keigo Oyamada (Cornelius), JD Samson (Le Tigre), Jason Schwartzman (actor), Regina Spektor (singer/sonwriter), Dean Wareham (Galaxie 500/Luna) and more…
Festivals: Tribeca Film Festival, Montclair Film Festival, Maryland Film Festival, Oak Cliff Film
Festival, Taoyuan Film Festival, SoundTrack Cologne, Middle Of The Map Fest, Lake County
Film Festival, Calgary International Film Festival, POP Montreal, Vancouver International Film
Festival, Nashville Film Festival, New Hampshire Film Festival, Cork Film Festival, St. Louis
International Film Festival, Sound Unseen, Reel Music Festival and more…
________________________________
About FACTORY 25:
FACTORY 25 is a Brooklyn-based independent film + music label founded in 2009 by Matt
Grady. FACTORY 25 releases films theatrically, digitally, physically, and curates provocative
limited edition DVD/vinyl combination packages. Specializing in indie niche projects, FACTORY 25 is committed to delivering films and music in perfect analog or digital quality. In addition to Other Music, indie film label Factory 25 released the critically-acclaimed Ham on Rye, Werewolf; Sylvio; The Great Pretender; Kid Thing; For the Plasma; MA Almost There; Little Feet; Ape; Bloomin Mud Shuffle; Jobriath A.D.; Sex and Broadcasting: A Film About WFMU; All the Light in the Sky; Sun Don't Shine; Marvin, Seth and Stanley; The Sheik and I; The Color Wheel; Green; Francine; The Oregonian; Richard's Wedding; Fake It So Real; Bad Fever; Convento; Frownland; Shit Year; You Won't Miss Me; Brock Enright: Good Times Will  Never Be the Same; New York Export: Opus Jazz; Rio Breaks; New Jerusalem; Beetle Queen Conquers Tokyo; Until The Light Takes Us; Wah Do Dem; Kids of Today; Two Gates of Sleep; Family Jams; and Make-Out With Violence; Better Than Something: Jay Reatard; Homemakers; The Other Side of Sleep; Buttons; and Pavilion.