Watch Peel Dream Magazine's live Baby TV performance of "Clean Water" & catch them on No Joy's virtual beach party this Saturday, 12/5
Peel Dream Magazine have shared the video for "Clean Water" from their Baby TV performance. Watch the video here and be sure to catch them this Saturday, December 5th performing on No Joy's No Bummer All Summer Virtual Beach Party livestream. The event will feature No Joy, Peel Dream Magazine, Sad13, Winter, Aerin Fogel, Lost Cove Tiki, DRYNX, and Second Sight. Get your tickets here.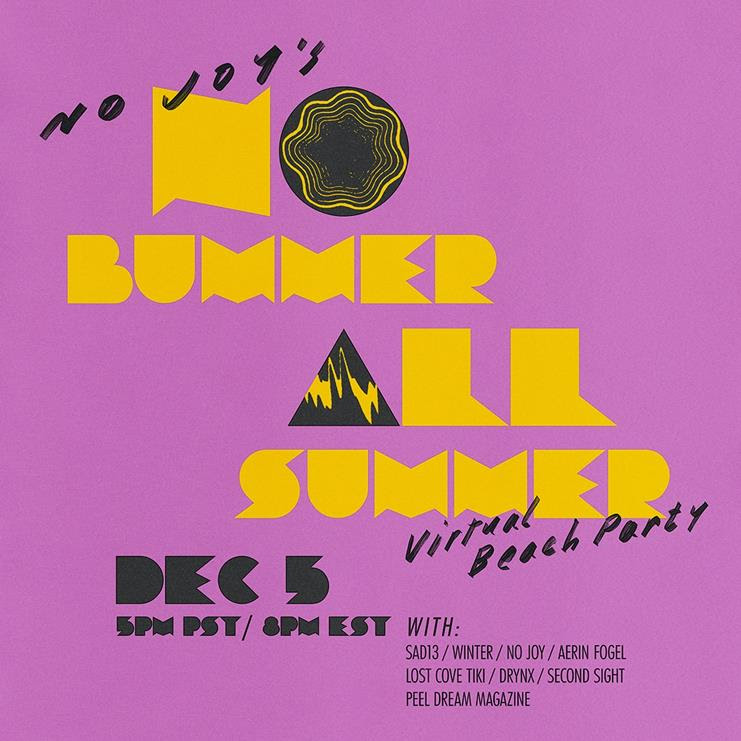 Peel Dream Magazine
Agitprop Alterna
(Slumberland)
Release Date: April 3, 2020
[click here to purchase]
Track Listing:
1. Pill
2. Emotional Devotion Creator
3. It's My Body
4. Escalator Ism
5. Brief Inner Mission
6. NYC Illuminati
7. Wood Paneling Pt 2
8. Too Dumb
9. The Bertolt Brecht Society
10. Permanent Moral Crisis
11. Do It
12. Eyeballs
13. Up and Up
Peel Dream Magazine
Moral Panics EP
(Slumberland)
Release Date: July 3, 2020
[click here to purchase]
Track Listing:
1. New Culture
2. Verfremdungseffekt
3. Dialectrics
4. Life At The Movies
5. The Furthest Nearby Place
6. Clean Water (Demo)
PEEL DREAM MAGAZINE LINKS:
"the Brooklyn shoegaze band's second album is a patchwork of brainy indie-pop influences with its own absurdist charm." –Pitchfork
"across Peel Dream Magazine's sophomore outing, the hits keep coming and the reference points keep collapsing in on each other … each song finds Peel Dream exploring different iterations of psychedelic music and blurring the boundaries between them. The hooks, history, and philosophy all become detritus swirling together into a kaleidoscopic reinterpretation you can't look away from" –Stereogum (Best Albums of 2020 So Far)
"the record is a nice mix of space age instrumentation, sweetly sung tunes, and gently hooky melodies, and it's clear that Stevens is adept at making a superb-sounding record." -AllMusic
"If you're a dream-pop fiend shaking from an endless craving for fuzz bliss, Joe Stevens pours the coffee pot topping you off." -NPR (on "Pill")
"Peel Dream Magazine have cemented themselves as reliably strong pop purveyors. They're reminiscent of classic shoegaze, but still keen on stretching sonic boundaries and perplexing listeners." -PASTE
"Joe Stevens has a clear vision for PDM and on this, their second album, those sounds are concentrated, amplified and sweetened. It's also got that thick, fuzzy sound that you can feel in your chest, which is just what you want with stuff like this. The group also don't forget to write actual songs, and melodies shine bright on Agitprop Alterna" -Brooklyn Vegan
"hooky, harmonic rock that seems to glow softly from within all the noise. It's an enveloping, oddly comforting soundtrack to troubled times." –Exclaim!
"They manage to encapsulate the historic spirit of their genre while flourishing it with their own textures and discoveries." –Post-Trash
"In short, Peel Dream Magazine are an incredibly comprehensive and forward-thinking shoegaze act. They're able to bring the genre's smeared vocal delivery and kaleidoscopic layerings to nearly every planet in the indie-rock multiverse and establish blissful unity on all fronts. Agitprop Alterna is a goddamn treat." -The Alternative