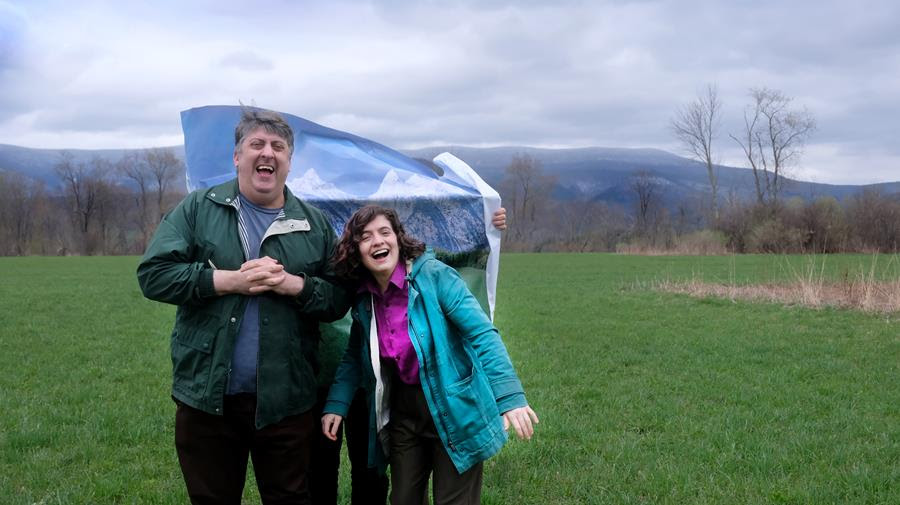 Today Jeanines are sharing "Who's In The Dark," the final single from their forthcoming Slumberland Records LP, Don't Wait For A Sign. Austin Town Hall has the premiere. Jeanines' Don't Wait For A Sign is due April 22nd via Slumberland Records. You can pre-order the album here. Catch their release show in NYC this weekend at TV Eye on 4/9. In case you missed them, check out the previous singles "Don't Wait For A Sign" & "Any Day Now."
Bio:
Jeanines began in Ridgewood, Queens, in the mid 2010s when Alicia Jeanine started writing songs as a way to deal with a stressful work situation. Drawing on the classical music background of her youth, Alicia's songs are a bracing brand of indiepop touched by the melancholy, complex melodies of those early influences. Alicia soon began working with her friend, musical polymath Jed Smith, and together they crafted the set of songs that would become the band's 2019 self-titled debut. Alicia's songs, brought to life by the exceptional arrangement and production courtesy of Jed's encyclopedic pop knowledge, marked the album as one of the best indiepop debuts in years, garnering attention from well beyond the international pop underground.
Now they're back with Don't Wait For A Sign, and it's a real gem. With the band now divided geographically and touched by the isolation and uncertainty of the pandemic, Jeanines' new album is deeper and a bit darker than their debut. The folk influences feel more pronounced, at times recalling early Fairport Convention or Vashti Bunyan as much as indiepop touchstones like Dear Nora, The Aislers Set, and the many bands of Pam Berry. First single "Any Day Now" hits all the notes of nostalgia and wistfulness we've come to expect from Jeanines, wrapped in a beautiful 60s-tinged melody. The title tune and "Got Nowhere To Go" both have a marked sunshine pop swing, like lost AM radio hits made contemporary by Jed's driving, economical playing.
Songs like "Who's In The Dark" and "Turn On The TV" show a band in total mastery of their idiom—a brilliantly compelling blend of timeless influences illuminated by Alicia's distinctive songwriting and sharp lyrics. The arrangements are always on point, full of interesting transitions and modulations but never fussy or in the way of the songs themselves. Alicia's vocals really take flight here, richer and more confident, and often layered in harmony.
Clocking in at a generous thirteen songs, Jeanines give us a lot to love with Don't Wait For A Sign. Second albums can be tricky, but here they ably manage to build on their terrific debut with well-honed songwriting, singular melodies, and unerringly sympathetic production.
TOUR DATES
4/9 – New York, NY – TV Eye (album release show)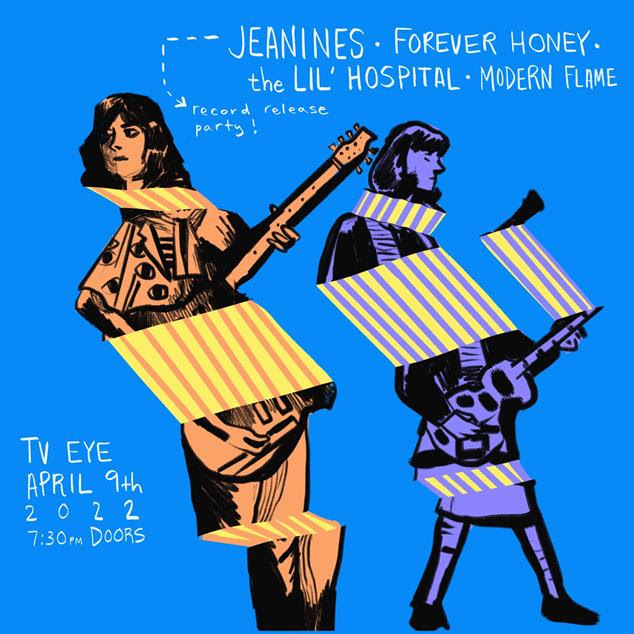 Jeanines
Don't Wait For A Sign
(Slumberland)
Street Date: April 22, 2022
[click here to pre-order]
Track List:
1. That's Okay
2 .Any Day Now
3. People Say
4. Don't Wait For A Sign
5. I Lie Awake
6. Got Nowhere To Go
7. Who's In The Dark
8. Dead Not Dead
9. Never Thought
10. Gotta Go
11. Through The Vines
12. Turn On The TV
13. Wishing Well