The Umbrellas announce new Slumberland 7″ & share the video for "Write It In The Sky" via Post-Trash
The Umbrella's Write It In The Sky 7″ is due 6/24
[click here to pre-order]
VIDEO: "Write It In The Sky" –
Post-Trash / YouTube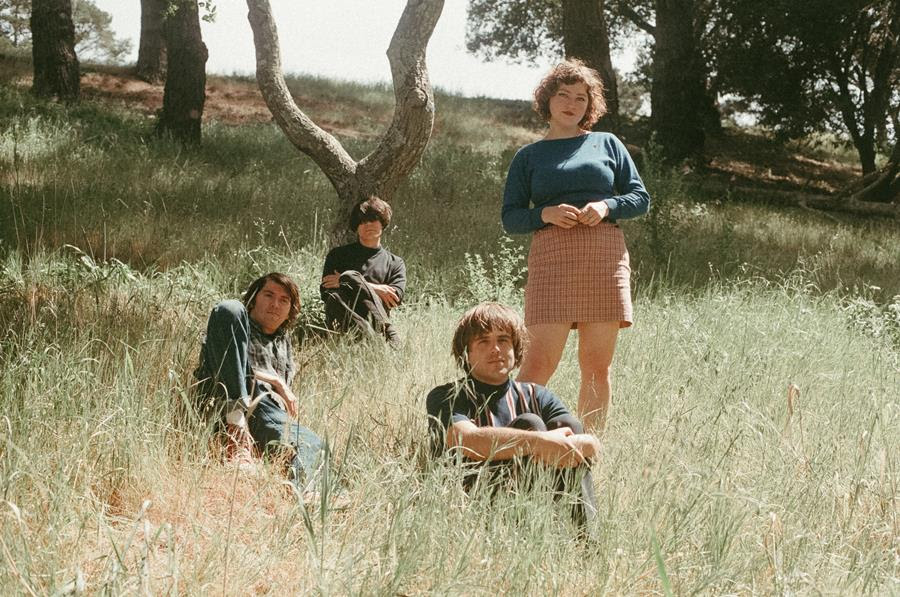 Today The Umbrellas are back and they're announcing a new 7″ single for Slumberland Records & sharing the lead single/video, "Write It In The Sky." Post-Trash has the premiere. The 7″ is out on June 24th via Slumberland is available for pre-order HERE.
The band gave some context on the A-side's origin: "The instrumental and melody for "Write it in the sky" was improvised one morning by Matt. The song makes use of droning via the guitars' A and high E strings. While recording we strived to  create an abrasive but beautiful production. We even have a track of Morgan just making feedback. Nick and Matt wrote the lyrics together. The verses alternate between the two; the first section by Matt, the second by Nick and so on. The lyrics to the chorus were written collaboratively while waking back from taco bell on Geary… repeating different variations until "write in the sky" stuck"
Bio:
The Umbrellas are one of the most exciting bands to come from the indie-pop underground in ages. Bursting out of the SF Bay Area's fertile indie scene, The Umbrellas come correct with a sound that fits snugly into a long line of classic pop, from The Byrds to Orange Juice, The Pastels, Comet Gain, Veronica Falls and Belle & Sebastian, along with a noticeable garage-pop/Paisley Underground flavor that is a hallmark of San Francisco's best bands. Their self-titled 2021 debut album dazzled with a dozen perfect pop tunes, charming the indie-pop faithful but also winning fans outside the scene, leading to sold-out tours with bands as disparate as Ceremony and Destroy Boys.
Now The Umbrellas are back with "Write It In The Sky," an instant-classic that simply demanded to be pressed onto a 7″ single. Clocking in at just under 3 minutes, "Write It In The Sky" is a thrilling pop rush full of fuzz, melody and excitement that will sit easily next to singles by the likes of Talulah Gosh, Shop Assistants, The Pastels and The Pains of Being Pure At Heart. It's really that good – a sure thing to enter the canon of perennial indie-pop floor-fillers. On the b-side we have the heavier "I'll Never Understand," a slow, trippy song with a slightly-delic sound that builds to a noisy crescendo. The band really crushes this one on stage, and it's fast becoming a live favorite. Taken together that point to a mighty bright future for The Umbrellas, and we can't wait to hear what's next!
some recent press quotes about the band:
"Though they've clearly studied the groups they're enamored with, the Umbrellas' songs are all their own, with lyrics about homesickness, ennui, and struggling to connect ringing true in a way that feels universal." – AllMusic
"The Umbrellas make classic jangly guitar indiepop in the tradition of NME's C86 cassette." –BrooklynVegan
THE UMBRELLAS TOUR DATES:
6/25 – Oakland, CA – Golden Bull / Oakland Weekender
8/3 – Costa Mesa, CA – The Wayfarer *#
8/5 – Los Angeles, CA – Zebulon *#
8/6 – San Francisco, CA – The Chapel *#
8/11 – Portland, OR – Doug Fir *%
8/12 – Seattle, WA – Vera Project *%
* = w/ Papercuts
# = w/ Chime School
% = w/ The Reds, Pinks & Purples
The Umbrellas
Write It In The Sky 7″
(Slumberland Records)
Street Date: June 24, 2022
[click here to pre-order]
Track Listing:
A. Write It In The Sky
B. I'll Never Understand