GOODBYE KARELLE, THE MUSICAL PROJECT OF ACTRESS AND POET KARELLE TREMBLAY, SHARES LP TITLE, RELEASE DATE AND TRACKLIST W/ NEW SINGLE + VIDEO VIA 444%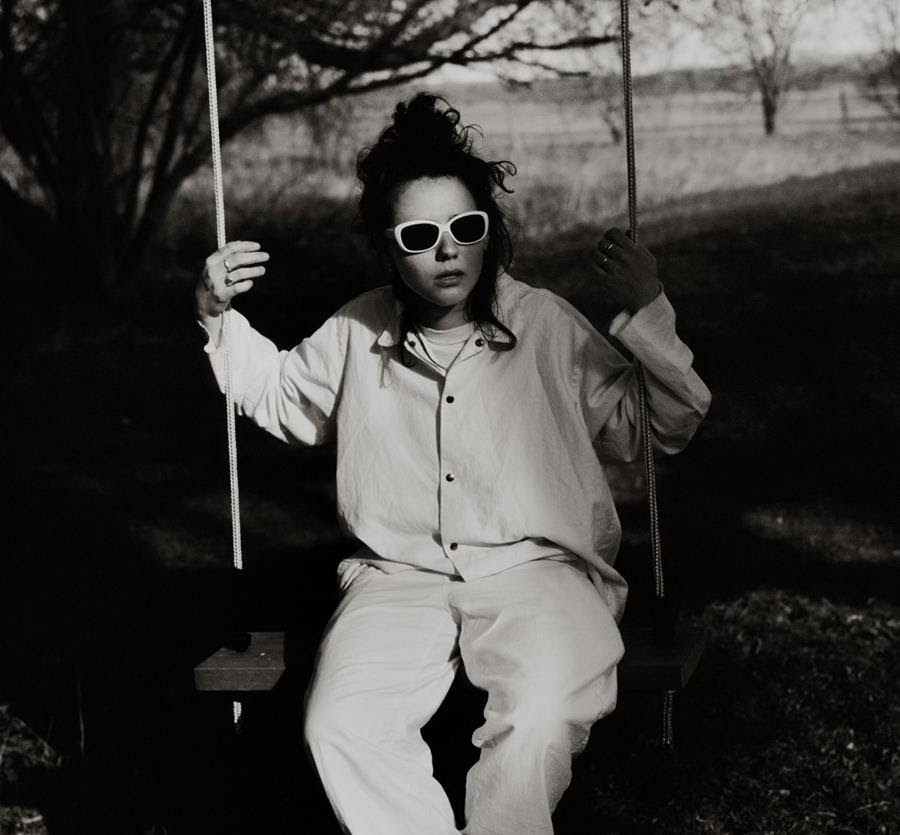 Photo Credit : Fred Gervais // DOWNLOAD HIGH-RES
Today marks the release of the second ever single by Goodbye Karelle, a new musical project led by singer-songwriter, actress, and poet Karelle Tremblay. "Sneakers" follows "Moonroad" as the earliest music in a promising career and the first glimpses at her forthcoming debut album Hugh Greene & the Lucies Made Me, which she wrote and brought to life alongside Quebec producer Jean-Philippe Levac.
The music invokes the hushed tones of spoken word icons like fellow Montrealer Leonard Cohen or Tom Waits but sits inside sharper, modern production associated with contemporary artists like Mitski, Snail Mail, and Japanese Breakfast.
The project is thematically driven by the award winning actor ending a lifelong career in film and television to pursue her musical talent, amidst a new desire for personal expression. Conflicts in gender, sexuality, and relationships form a unique and deeply expressive world for the listener. Goodbye Karelle emerges as storyteller and protagonist, a new voice in the musical wilderness.
An official music video for "Sneakers" accompanies today's release, and was shot by JP Levac and edited by Fred Gervais.
"I'm not someone who likes to go out, never been like that," explains the artist. "This song and video are about and from a certain moment in my life where I was really sad and had to go out and meet new people, but was incapable."
MORE ABOUT HUGH GREENE & THE LUCIES MADE ME
Entitled Hugh Greene & the Lucies Made Me, the journey to this record is best shared in the artist's words (translated from French). The title itself is a reference to her masculine identity, the narrator of the LP.
"I am coming to the end, after almost three years, of my first album as a singer-songwriter. Having no professional training in music, but having practiced this art since my childhood, I drew my inspiration from the simplest details of the vagaries of the heart, as well as from the most complex experiences I have had throughout my young adult life.
I've been in the film and television business in Quebec and English Canada for over 10 years, so I already have an image and a profile. But does it represent me? With this project my goal was simple: reveal myself as my truest self.
My gender identity is complex. In certain moments, I speak about myself as masculine. I don't identify myself completely as a woman. However, because of my job as an actress, in a still very hetero normed environment, I am always labeled as one.
This was also due to a lack of confidence in my voice. But suddenly, music has allowed me to express my gender through the deployment of my creative force. This did not come without struggle. When I started making music, I was unable to hear myself without effects. I tried to camouflage it as best I could, which was counter to what I wanted to project; something assumed, between male and female, a husky and deep voice, a buried voice that was still mine.
I have always been inspired by the power of words and their potential poetic assembly. I am particularly fond of writing lyrics. While my acting job required me to recite other people's words, music offered me the opportunity to write them, to play with them.
During my years of acting, I too often felt dispossessed of my own words, sometimes even obligated to defend values that could go against the ideas that inhabited me.
Strengthened by this muzzling, by the inability to express myself fully, was born this need to create my own artistic identity. I had pages and pages of text in my phone, which I collected every day, written at any time. They came to form the skeleton of compositions to come.
My goal was to gather this album around the beautiful and painful complexity of the emotional relationships that have marked me in recent years.
I want to use this opportunity to solidify my narrative and add more pages to the story I want to tell. I don't want to take any intellectual shortcuts: this is not a side project. This is Goodbye Karelle."